May's Quick EU Envoy Choice Reflects Quest for Control
By , , and
Hiring Barrow so fast said to show May is sensitive to critics

Brexit backers Johnson, Davis, Baker all pledge their support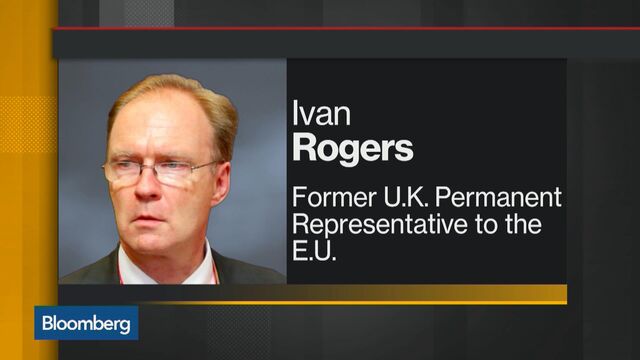 Theresa May moved decisively to silence mounting criticism that she has no plan for Brexit, by naming career diplomat Tim Barrow as the U.K.'s next ambassador to the European Union barely 24 hours after his predecessor resigned.
The readiness of the U.K. premier, who has promised to give further details of her strategy in a speech in the coming weeks, to take such a crucial decision so quickly also suggests a weakness: the criticism of her approach to Brexit must have stung. 

One senior figure inside the U.K. government said that while Barrow was clearly a fine candidate, the speed with which May acted shows her desire to regain the initiative after Ivan Rogers surprised her by resigning. It also indicates her need to counter claims she's overseeing a vacuum on Brexit policy, the official said, speaking on condition of anonymity because the subject is sensitive.
"Replacing Ivan Rogers speedily helps to avoid the impression that they're at sixes and sevens," John Curtice, professor of politics at Strathclyde University in Glasgow, said in an interview. "It's not a vacancy that you wish to have hanging around at a stage where you're about to formulate your negotiating stance to leave the European Union."
Brexit Vacuum
When Rogers quit on Tuesday, he did not go quietly. In a message to staff working with him at the U.K.'s permanent office in Brussels, he coolly laid out the shortcomings in May's preparations for the complex Brexit talks she has pledged to begin by the end of March.
There is no clear structure for the U.K's negotiating team and there is a dearth of expert negotiators, he said. Working relations between staff in London and Brussels need to be better, he added, urging officials to continue challenging "muddled thinking" from ministers. And nobody yet knows -- including him -- what May wants to achieve in the negotiations.
Rogers's comments reflect growing disquiet across Whitehall at a lack of support for the civil service from ministers in May's government and retired senior officials have spoken out on behalf of their former colleagues about the lack of direction from the premier. The opposition Labour Party said they were amazed that even Rogers did not know her plan for the Brexit negotiations.
Leadership Needed
"Less than three months away from the government's self-imposed deadline for triggering Article 50, we still do not have a delivery plan, negotiating strategy or clear understanding of the resources required," Bob Kerslake, who was head of the civil service until 2014, said in a letter to the Times newspaper. To deliver a successful Brexit, the civil service "needs to be clearly led, resourced properly to do the job and listened to even when its advice is not welcome," he wrote.
In acting so quickly over Rogers, May tried to signal to her doubters that she is firmly in control. The premier will use a speech later this month to allay criticism she doesn't have a clear vision for Brexit and underline that she is unafraid to pull the U.K. out of the single market unless Britain gets full control over its borders, the Telegraph reported.
Hard-line Brexit supporters welcomed Rogers's departure but in choosing Barrow, May has held firm against the most passionate Euroskeptics -- said to have included Foreign Secretary Boris Johnson -- who wanted her to appoint a political supporter of their cause. 
'Just The Man'
Within minutes of the announcement being made, leading Brexit supporters including David Davis, the Brexit Secretary, and Steve Baker, who led the Conservative Party's leave campaign, all expressed their support for Barrow. Johnson said "he is just the man to get the best deal for the U.K."
May herself remained silent, except for a statement from her spokesman endorsing Barrow's credentials as "a seasoned and tough negotiator, with extensive experience of securing U.K. objectives in Brussels."
Those who have worked with him say Barrow will be less emotional than Rogers, who is said to have repeatedly threatened to resign over recent years.
The new envoy, who joined the Foreign Office in 1986 and was ambassador to Russia until last year, will be a key figure in negotiations. While in Moscow, he was known for his independent views, in spite of the worst government-to-government ties since the Cold War, provoked by the assassination in London of dissident Russian intelligence agent Alexander Litvinenko in 2006.
Barrow will need all his experience of dealing with a hostile Russia when Brexit talks begin later this year, as he tries to hash out the U.K.'s divorce from its 27 partners in the bloc.
But Jonathan Marland, who was a trade envoy under May's predecessor David Cameron, questioned the ability of the civil service to give May and Barrow the backing they will need in the talks.
"My fear is that Whitehall as a whole has really not got the skill set to deliver a really hard-nosed negotiation," he told BBC radio. "We have really got to up skill in that area to do it."
— With assistance by Simon Kennedy, and Henry Meyer
(
Corrects Jonathan Marland's name in penultimate paragraph.
)
Before it's here, it's on the Bloomberg Terminal.
LEARN MORE