Sleep Like Millionaire Media Mogul Arianna Huffington
Get a charging bed for your phone.
By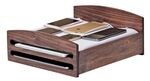 Arianna Huffington, founder of Thrive Global, a wellness startup focused on reducing stress and burnout by improving sleep, on how she winds down: 
How did you get so invested in this topic?
I collapsed from sleep deprivation in 2007 and broke my cheekbone. As I delved into the question of burnout and sleep deprivation, I was amazed to see how conclusive modern science is about the importance of sleep. It is not optional. It is the essential pillar of health, together with nutrition and exercise.
How has your rest improved?
I prioritize it. I get eight hours, which is what I need to be operating on all cylinders—to be present, to bring joy to my life.

What's the most important thing to do to sleep well?
You have to create a transition to sleep. My transition is having a hot bath to try and soak away the day, wearing dedicated PJs, reading books, and making a list of all the things I'm thankful for. People can make their own transition. Even if you do 10 minutes, you need something. Otherwise, you've been going, going, going all day—and then the majority of people are texting or e-mailing until the last moment, and when they turn off the light they expect their brains to have completely slowed down, which is hard.
How did you decide on the products to sell in Thrive stores?
Everything we decided to carry because scientific findings show that it helps, even the PJs. If you have dedicated wear for sleep, as opposed to sleeping in your gym clothes, which is what I used to do, it doesn't send this confusing message to your brain: Am I going to sleep? Am I slowing down? Or am I going to the gym?
*Thrive's e-commerce and pop-up stores (the New York pop-up runs until Jan. 15, and others will open across the U.S. in 2017) sell a mix of nonpharmacological sleep aids, sleepwear, meditation guides, health-tech accessories, and books.
A Few of Huffington's Favorite Things
(All available at shop.thriveglobal.com)

Good Night lightbulb by Lighting Science, $25
Originally designed for astronauts aboard the International Space Station to help regulate their sleep-wake cycles.  It filters out blue light, which helps you power down your brain. "You begin to get disconnected," says Huffington.
Phone Bed charging station, $100
It might look silly—it's a tiny bed!—but this tool for teaching children to say goodnight to their phones is meant to foster a healthy relationship with technology. "At night, it becomes a ritual—the mommy, the daddy, the kids put their phones there." 

Arianna Huffington's travel essentials kit by the Goodnight Co., $165
Includes a silk pillowcase, a silk sleep mask, earplugs, a lavender oil roll-on to help you fall asleep, and one with grapefruit, rosemary, and geranium oils to revitalize you. "On planes, even if you travel first class, they're harsh eye masks. They're harsh pillowcases."
Before it's here, it's on the Bloomberg Terminal.
LEARN MORE