S&P 500 Bull Market Is Getting Old, UBS Technical Analysts Warn
By
Benchmark trades in final wave 5 of Elliott Wave chart pattern

Index set to peak in next 6 to 18 months around 2,400-2,500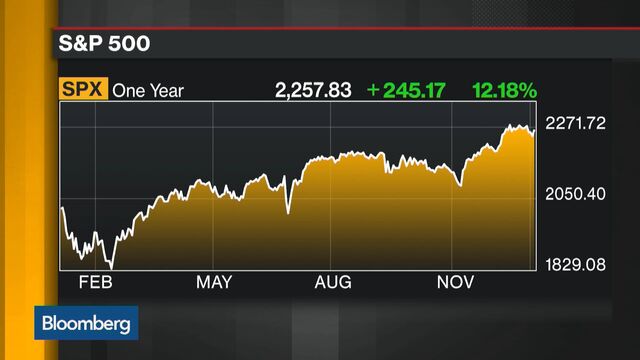 The rally in Standard & Poor's 500 Index shares may persist for most of this year, UBS technical analysts Michael Riesner and Marc Muller said, while cautioning that the long-term bull market is in its late stages. That means investors should brace for sharp swings.
The benchmark, which has more than tripled since 2009 as the global financial crisis began winding down, is trading in the final stage of a bullish Elliott Wave chart pattern, known as wave 5, they wrote in a note to clients. It's set to peak in the next six to 18 months, according to the forecast.
Usually in late-stages bull markets, volatility tends to surge, and given that investors seem "overly bullish" and U.S. stocks look overbought following sharp gains in the past two months, the market looks vulnerable to a pull-back starting sometime in January, before a "last hurrah" rally into the summer, the analysts said.

UBS sees 2,400 to 2,500 as a target for the S&P 500's final wave 5 peak, before the index starts a deep and long-lasting correction cycle; the index is currently at about 2,266.
Recent weekly surveys by the American Association of Individual Investors show that the percentage respondents with a "neutral" outlook dropped in December to levels not seen since late 2014. For UBS analysts, this suggests investors are "extremely convinced" of what they think about 2017, and that the high level of bullishness is a burden for 2017.
Before it's here, it's on the Bloomberg Terminal.
LEARN MORE