Republicans Want to Kill Obamacare Without the Blame
"They don't know what to do. They're like the dog that caught the bus."
By and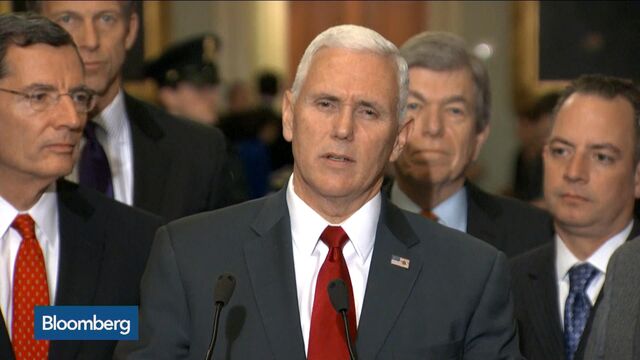 Republicans have a problem. They've vowed to repeal Obamacare, but they don't want to take the blame when some of the 20 million people who get health insurance under the Affordable Care Act lose it. The GOP strategy is to argue that they aren't actually killing Obamacare; all they're doing is giving it a proper burial. "People must remember that Obamacare just doesn't work; and it is not affordable," President-elect Donald Trump tweeted on Jan. 3. "It will fall of its own weight - be careful!" he added the next day.
It's true that Obamacare isn't in the pink of health. Premiums, which insurers set artificially low in the first years to win market share, have soared. Premiums for benchmark plans in states that use the federal insurance exchange are going up 25 percent this year from 2016, the U.S. Department of Health and Human Services said in an October report. Even with those increases, some insurers have dropped out because they can't make money. "Obamacare is in a death spiral and we must take action before things get worse," Senator Tom Cotton, an Arkansas Republican, said in an October statement.

Yet Obamacare's problems don't fit the death-spiral description. To economists, a death spiral is a very specific type of failure. It's what happens when premiums are too high for the healthiest people, who don't expect to need much care. So those people drop out, leaving behind a slightly sicker population that's more expensive to care for. Insurers raise premiums, which forces out the next tier of healthy people, making the remaining insured population even sicker, and so on, until the system breaks down completely.
The authors of Obamacare equipped it with a circuit breaker that prevents a death spiral from ever getting started. Everyone, even the healthiest, must be covered or pay a tax penalty. More important, more than 80 percent of people who buy insurance through the exchanges qualify for subsidies. The credits also insulate them from premium increases: If premiums go up, the tax credits go up as well. Since healthy people don't feel premium increases, they have no reason to drop out of the risk pool. Because they don't drop out, insurers can continue to have a profitable mix of healthy and not-so-healthy people in their pool of coverage. The tax credits are "an enormous stabilization force," says Linda Blumberg, a senior fellow at the nonprofit Urban Institute think tank.
If Obamacare were in a death spiral, it would show up in declining enrollment. In fact, enrollment appears to be growing. Health and Human Services reported that sign-ups, including renewals, reached 8.8 million by Dec. 31. That's an increase of 2.3 percent from the same time last year. The first people to sign up for Obamacare, starting in 2013, tended to be the sickest of the uninsured, for whom getting covered was a no-brainer, says Larry Levitt, a health policy expert at the nonprofit Kaiser Family Foundation. More recent enrollees tend to be healthier, he says, and therefore cheaper to care for than the first wave of registrants. The risk pool is getting healthier.
Aggressive efforts by the Obama administration to sign people up for health plans under the exchanges aren't just good for the individuals who get insurance; they're good for the financial health of the program. S&P Global Ratings figures the 2017 premium increases may be enough for insurers to finally break even or better. If anything, Obamacare is in a life spiral.
Republicans could reverse that progress by eliminating the individual coverage mandate, which has been at the heart of GOP opposition to Obamacare. That would reduce the incentive for healthy people to enroll. Says Levitt: "If the GOP repeals the individual mandate immediately but keeps in place the guarantee of coverage for preexisting conditions, that could very well produce the death spiral."
It might be politically impossible for Republicans to get rid of regulations prohibiting insurers from denying coverage or raising costs for people with preexisting conditions. Trump carried 12 of the 14 states with the largest percentages of non-elderly people with preexisting conditions in 2015, according to a Kaiser study released in December. He also got one electoral vote in Maine, the 13th state in the group.
Congressional Republican aides say they're likely to soften the coverage rules rather than eliminate them altogether, by limiting protections to people who maintain continuous coverage. "The preexisting condition provisions in Republican proposals are less protective," says Levitt. "With fewer protections, you could piece together other mechanisms to keep the market stable."
Repeal will likely happen quickly. Republican aides involved in the deliberations say some parts of the law may be scrapped, such as requirements for businesses to provide health coverage for employees who work more than 30 hours a week. Some parts of the law may never be repealed, namely the popular provision letting people under age 26 remain on a parent's health plan.
Developing a Republican alternative will take longer. House conservatives want a two-year horizon for finding a replacement. Republican leaders prefer at least three years, and there has been discussion of putting it off until after the 2020 elections, staffers say. Trump and House Speaker Paul Ryan of Wisconsin have been vague on what they want to see, but both released blueprints calling for expanding the use of tax-advantaged health savings accounts, allowing the sale of insurance across state lines, and turning Medicaid over to states. Republicans are seeking recommendations from governors and industry leaders on what to do.
Leading Republicans such as Senate Majority Whip John Cornyn of Texas have said they want Democratic buy-in on a replacement plan. But Democrats have made clear they won't go along with repeal. Some are taunting the GOP. "Bring it on," incoming Senate Minority Leader Chuck Schumer of New York said at a December press conference. "They don't know what to do. They're like the dog that caught the bus."
Even if Republicans scrap Obamacare's premium subsidies, they will need to come up with something similar to make insurance affordable. Trump has proposed high-risk pools to cover sick uninsured people, but financing them will be a challenge. A 2010 estimate in the policy journal National Affairs by conservative health-care experts Tom Miller and James Capretta pegged the cost at $150 billion to $200 billion over a decade to insure up to 4 million people. House Republicans have been reluctant to spend anything close to that.
Repealing Obamacare would save money on the spending side, but it would cost money on the revenue side—for one thing, the Obamacare tax would go away. On net, repealing the law would increase the deficit by $353 billion over a decade, or $137 billion under favorable macroeconomic assumptions, according to the Congressional Budget Office.
As they chart the path ahead, Republicans are trying to calm fears. "The new big lie, after 'If you like your health-care plan, you can keep it,' is that 20 million Americans will lose their health care," Representative Kevin Brady of Texas, chair of the House Ways and Means Committee, told reporters last month. "That's simply not true."

—With Zachary Tracer
The bottom line: Republicans promised to repeal Obamacare, but finding a replacement could be expensive and politically unpopular.
Before it's here, it's on the Bloomberg Terminal.
LEARN MORE