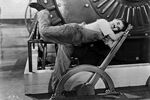 Charlie Chaplin's classic silent satire of newfangledness, Modern Times, first hit home video in 1978. Completist cinephiles who forked over the money for the VHS cassette were tempted at least three more times when it was released on LaserDisc, DVD, and Blu-ray. Now that we've entered the streaming era, the time has come for yet another upgrade—which is to say, the Little Tramp isn't the only one having a hard time keeping up with technology.
If you find yourself yearning to watch Modern Times in these modern times, it's available now alongside about 30 other Chaplin films and shorts on the streaming service FilmStruck. Launched in November and aimed at film buffs, the service offers an impressive library drawn from the cornucopian files of two of cinema's most tireless preservationists, Turner Classic Movies and the Criterion Collection. It's the latest in a line of boutique services, such as Fandor, Mubi, and Sundance Now, that have cropped up to fill gaps in the market left by Netflix, Amazon.com, and Hulu as they've increased their focus on original programming. If those three are the chain megaplexes of the internet, then sites such as FilmStruck are the local revival houses offering thoughtful curation and a niche experience in lieu of sheer quantity.
Whereas the libraries of the big players are stuffed with the cinematic equivalent of sawdust filler, FilmStruck is pared to the essentials and arranged with care; any movie you pick will likely be a good one. For $6.99 a month, subscribers can watch anything in the collection, which includes a rotating selection of Criterion and Turner titles, while $10.99 grants access to Criterion's entire catalog. For example, Roberto Rossellini's Stromboli and Journey to Italy are available as part of FilmStruck's Ingrid Bergman series, but the director's Rome, Open City is available only on the pricier plan.
Whether it's worth tacking on one more monthly subscription service to your list depends on your degree of cinephilia. There are some accessible American masterpieces—both modern, like the Coen brothers' Blood Simple, and classic, like Stanley Kubrick's The Killing. Others include Paul Thomas Anderson's Hard Eight, Robert Altman's The Long Goodbye, and the Beatles' A Hard Day's Night. But by dividing what it calls "the largest streaming library of art house, independent, and foreign films" into categories as unapologetically esoteric as French poetic realism and "based on George Bernard Shaw," FilmStruck is intentionally appealing to a narrow demographic. The majority of the titles, which include almost the entire filmographies of Akira Kurosawa and Fritz Lang, are closer to what you'd watch in a graduate seminar than in Film 101. If your first response to someone saying "Chantal Akerman" is more likely to be "gesundheit" than "she's my favorite structuralist filmmaker," you might save your money.
What makes FilmStruck worth the cost—and overcomes its imperfect search function—is that it's designed not only to offer a lot of choices, but also to help you parse them; if French poetic realism isn't the deep dive you're looking for, there are many others. For anyone who has spare time after a Kurosawa marathon, there's plenty of supplemental material, too, such as director interviews and a slightly arbitrary series in which comedian and cinéaste Bill Hader discusses his favorite films. As the library is expanded and deepened, FilmStruck could become a singular place for classic film fans to flock. The market is woefully underserved right now. The startup hopes that's less an indication of consumer interest and more one of not having the right product to meet it.
Before it's here, it's on the Bloomberg Terminal.
LEARN MORE