Le Pen Says Trump's Ford Victory Is Proof Protectionism Works
By and
Nationalist leader vows to redenominate French government debt

Polls show Le Pen second in French race, promising euro exit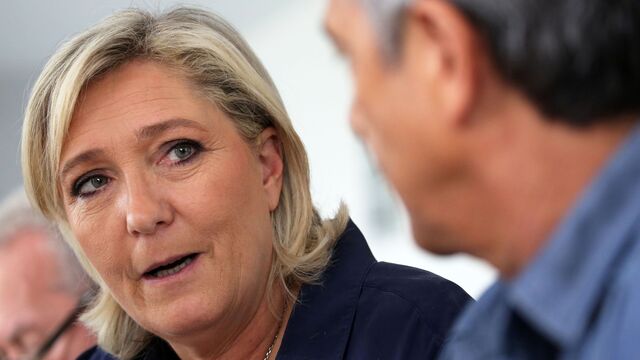 Marine Le Pen said a protectionist economic policy would be good for employment in France, pointing to Donald Trump's success in pushing Ford Motor Co. to keep jobs in the U.S.
"Protectionism works when it's done by a country with a committed leader and economic sovereignty -- it's good for industry and it's good for employment," the nationalist presidential candidate said at a press conference at her campaign headquarters in Paris, just over a mile from the presidential palace. "Determination pays off in politics and what Trump achieved is proof of that."

Le Pen, 48, who is running second in the race for May's presidential election, is looking to use the U.S. president-elect's early successes as evidence that her own protectionist and anti-immigration platform can deliver benefits for the French. She called on voters to join the wave of populism sweeping through western democracies and throw out an elite that is "incapable of shaping the country's fate."
Ford canceled plans for a $1.6 billion expansion of a plant in Mexico on Tuesday to add positions in Michigan instead, after Trump had promised levies on manufacturers who shipped jobs overseas and then tried to sell into the U.S. market.
With the decline of middle-income jobs fueling voters' discontent across the developed world, all the contenders in the French election have pledged action to protect and revive manufacturing, though only Le Pen is threatening to abandon the euro and the European Union.
Redenomination Risk
The lifelong politician promised to leave the euro and introduce a new French franc, redenominating French government debt in the process. Anticipating that move would lead to the collapse of the euro, she said the franc would then be pegged to a new European currency, without going into detail on how that might work.
"I want the French people to recover their sovereignty -- at least territorial sovereignty with permanent border control, as well as monetary and economic sovereignty," she told RMC radio on Tuesday, promising a referendum on France's relations with the European Union within six months if elected.
Pollsters expect Le Pen to reach the second round of voting but none have projected that she could win the runoff. The National Front leader pledged to create a "presidential majority" if elected and to work with "all the patriots who will have joined us." She said "many personalities have already have joined me in the past year," though she didn't give any names.
"I can tell you, regarding my campaign and my accession to power, that I know where I'm going and how I'm getting there," she said.
Before it's here, it's on the Bloomberg Terminal.
LEARN MORE