markets
Indonesia to Let JPMorgan Do Private Business After Cutting Ties
By
Government wants more objective assessment from analysts

Indonesia ended ties with JPMorgan after stocks downgrade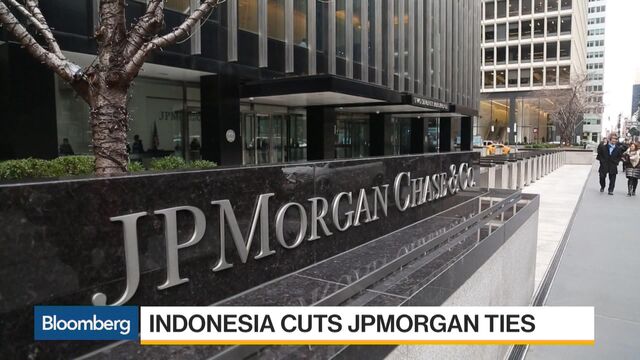 Indonesia won't stop JPMorgan Chase & Co. from conducting private-sector business in the country, a finance ministry official said, days after the government severed commercial ties with the U.S. bank for cutting its assessment of the nation's stocks.
"For business here, JPM is still allowed to operate just like other banks," Suahasil Nazara, head of the fiscal agency at the finance ministry, told reporters in Jakarta on Wednesday. "The bottom line is that they don't have a contract with the government."
The government disagrees with JPMorgan's assessment of Indonesia's economy and wants global financial firms to provide more "objective" assessments, Nazara said. The ministry suspended JPMorgan as a primary dealer and underwriter of Indonesia's bonds from Jan. 1 after the bank downgraded the country's equities by two notches to underweight in November following Donald Trump's election win.
JPMorgan continues to operate as normal in Indonesia and is working with the finance ministry to resolve the matter, the New York-based bank said in e-mailed statement Tuesday.
The biggest U.S. bank was part of a underwriting syndicate when Indonesia sold 3 billion euros ($3.1 billion) of bonds in June. The lender wasn't listed as a member of syndicates for two more recent offerings denominated in yen and U.S. dollars, according to data compiled by Bloomberg.  
The government will find a replacement for JPMorgan as a primary dealer and bond underwriter if needed, Nazara said.
"The message to all finance companies is be objective and credible," he said. "The bigger the institution and reputation, the bigger the responsibility."
Before it's here, it's on the Bloomberg Terminal.
LEARN MORE