Automakers' December Deals Push 2016 to a Record Seventh Gain
by and
Sales reached 17.55 million; December rate was best since 2005

GM, Ford shares surge even as industry heads into tougher 2017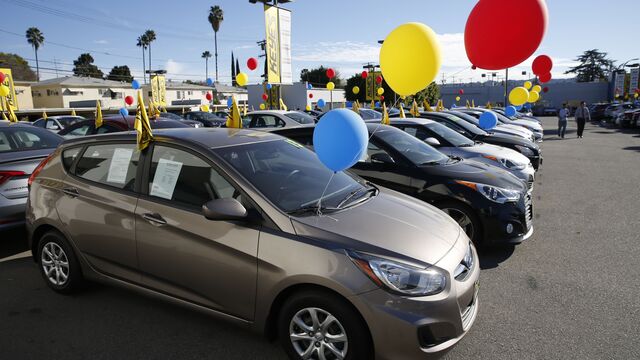 Automakers bought themselves a holiday present in 2016 to achieve a record seventh straight annual sales gain -- at a steep cost.
Aggressive dealmaking in December ultimately pushed the year's total sales to a record 17.55 million cars and light trucks -- a feat considered unlikely just six months earlier. For the month, General Motors Co.'s 10 percent gain led the six largest automakers, all of which beat estimates. The monthly annualized sales rate accelerated to 18.4 million in December, the best pace since July 2005.

"We saw tremendous sales incentives in November and December," said Michelle Krebs, senior analyst with price-researcher Autotrader.com Inc., citing programs such as Chevrolet's Red Tag Sales Event and Nissan's holiday event. "Automakers were even adjusting incentives throughout the month to boost sales. Year-end deals were as aggressive as we've seen."
Still unknown is whether the year-end push was a last gasp. Automakers are entering 2017 with analysts projecting the first sales decline in years, to about 17.3 million. A strengthened U.S. economy and Wednesday's results -- which included surprise gains by Ford Motor Co., Toyota Motor Corp. and Nissan Motor Co. -- gave some automakers added confidence that this year could also surpass expectations.
"The industry is very healthy, the overall supporting economy is good," said Bill Fay, the head of Toyota-brand sales in the U.S. "I expect the industry will get off to a good start and we'll have another good, strong year."
December Shines
Industrywide sales rose 3.1 percent to 1.69 million in December, researcher Autodata Corp. reported, while for the full year the gain was 0.4 percent from 2015's 17.48 million. Coming into Wednesday's reports, analysts had predicted that only GM would post higher deliveries in December. They also projected a seasonally adjusted annualized rate of 17.6 million cars and light trucks.
The results buoyed automaker shares. GM rose 5.5 percent, the most since November, to $37.09, while Ford's 4.6 percent surge was its biggest since March. Even Fiat Chrysler Automobiles NV -- the only major automaker to post lower December sales -- rose 1.4 percent.
Appetite for Deals
Burgeoning U.S. consumer confidence should keep sales at or near record levels, said Mustafa Mohatarem, GM's chief economist. Gross domestic product rose 3.5 percent in the third quarter and is projected to gain 2.2 percent for the fourth quarter.
Even so, stretching to an eighth straight year of sales gains in 2017 will likely only happen if automakers discount even further, said Alan Baum, an independent auto analyst in Bloomfield Township, Michigan. With passenger car sales falling, it'll be tough for carmakers to continue sustaining growth on the strength of just trucks and sport utility vehicles next year.
"Setting another record will require incentive spending that GM would say they won't do," Baum said.

In December, automakers gave away incentive deals equal to 12.5 percent of the average transaction price, up from 11 percent a year earlier, according to J.D. Power data. The good news for profits is average prices are rising too because consumers are buying more expensive SUVs with pricier options, Autotrader's Krebs said.
Deliveries to individual buyers also have improved, which bodes well for profits because retailed vehicles tend to sell at better prices than shipments to rental fleets. GM sold almost 74,000 fewer cars to rental companies last year, the company said in a statement. Ford also showed a jump in retail sales in December while its fleet business fell.
Individual Results
GM, the biggest U.S. automaker, said deliveries rose 10 percent, beating analysts' estimates for an increase of about 4.4 percent. Its Chevrolet brand offered Red Tag Sales Event discounts of more than $10,000 on heavy-duty versions of the Silverado pickup and more than $11,000 on one version of the Tahoe large SUV.
Ford, Toyota Motor Corp., Nissan Motor Co. and Honda Motor Co. all posted surprise gains in December instead of the drops analysts projected. Fiat Chrysler's sales fell 10 percent instead of the 14 percent predicted.
Before it's here, it's on the Bloomberg Terminal.
LEARN MORE