After Ripping Wall Street, Trump Picks Insider to Lead SEC
By and
Sullivan & Cromwell's Jay Clayton tapped to chair agency

His legal clients have included Goldman Sachs and hedge funds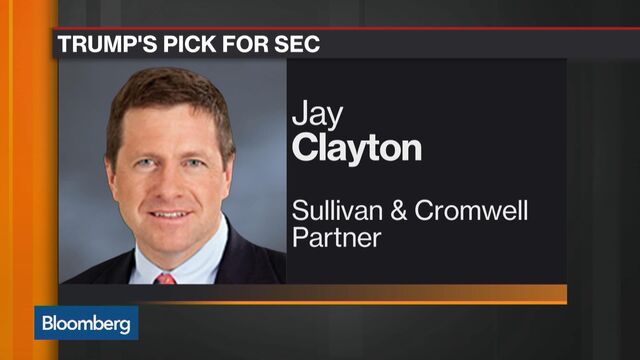 Donald Trump assailed Wall Street on the campaign trail, and frequently criticized his political opponents for their ties to Goldman Sachs Group Inc. Now, Trump is relying on a lawyer who has spent his career representing financial firms, and has his own close ties to Goldman, to lead Wall Street's top regulator.
Trump will nominate Sullivan & Cromwell partner Jay Clayton to run the Securities and Exchange Commission, the president-elect's transition team said in a statement Wednesday. Clayton's clients represent a virtual who's who list of industry titans, including hedge funds, private equity firms and Goldman, where his wife has worked for almost two decades.
Still, Trump's advisers said Clayton will provide "strong oversight" of financial firms while helping do away with policies that have stifled job growth.
"Jay Clayton is a highly talented expert on many aspects of financial and regulatory law, and he will ensure our financial institutions can thrive and create jobs while playing by the rules," Trump said in the statement. "We need to undo many regulations which have stifled investment in American businesses, and restore oversight of the financial industry in a way that does not harm American workers."
Banker Coup
The choice of Clayton continues a surprise coup for financial firms since Trump won the presidency in November. While Trump attacked Wall Street during his run, and many bankers supported Hillary Clinton's candidacy, the president-elect has tapped a number of industry insiders for key posts. His picks include former Goldman partner Steven Mnuchin to be Treasury Secretary, former Goldman President Gary Cohn for the top White House economic post and billionaire investor Wilbur Ross to lead the Commerce Department.
Mnuchin, Cohn and Stephen Bannon, Trump's chief strategist, were among those who pushed for Trump to pick Clayton, according to a person with knowledge of the matter who asked not to be named because the discussions were private. Bannon is also a former Goldman employee.
Clayton, 50, helped represent Goldman in connection with the $10 billion it received in 2008 as part of the government's $700 billion bailout of banks during the financial crisis. He also worked on a $5 billion investment that Warren Buffett's Berkshire Hathaway Inc. made in Goldman that year, according to Sullivan & Cromwell's website. Other clients have included Och-Ziff Capital Management Group LLC to Oaktree Capital Group LLC. Clayton also worked on high profile initial public offerings, including Alibaba Group Holding Ltd.'s record $25 billion share sale in 2014.
His wife, Gretchen, is a wealth manager at Goldman, according to a person with knowledge of the matter. She has worked at the firm since 2000, according to her LinkedIn profile.
Managing Conflicts
Clayton said in a statement he planned to work with "key stakeholders in the financial system to make sure we provide investors and our companies with the confidence to invest together in America." He said he would "carefully monitor our financial sector, as we set policy that encourages American companies to do what they do best: create jobs."
If confirmed by the Senate, Clayton would replace Mary Jo White, who has said she will step down when President Barack Obama leaves office later this month.
Sullivan & Cromwell is one of New York's most venerable law firms, and Clayton's work there will probably require him to step aside from many SEC cases, ethics lawyers said. Under the law, Clayton would have to recuse himself from any matters involving Sullivan & Cromwell and his clients for one year. In addition, Clayton would be barred from ever weighing in on a specific deal or investigation that he had worked on at Sullivan & Cromwell.
Recusals typically apply to specific probes, rather than policy matters that impact an entire industry. So while Clayton would have to step aside from cases involving his clients during his first year as chairman, for example an SEC investigation into Alibaba, he would still be able to vote on an agency regulation that set out disclosure rules for Chinese companies that sell shares to U.S. investors.
Wife's Job
His wife's job could also present issues, the ethics lawyers said. Because Goldman is overseen by the SEC, Gretchen Clayton would have to sell any stock she owns in the firm. In addition, she would likely need to be given a fixed salary and avoid participating in any profit-sharing plans Goldman offers employees. While it would be legal for her to continue working at Goldman, leaving the firm would be the cleanest way for her to deal with any conflicts, said Richard Painter, who was the chief ethics lawyer for President George W. Bush.
"It would be better for the country and better for the Securities and Exchange Commission if she would find something else to do," said Painter, who's now a professor at the University of Minnesota Law School.
A Goldman spokesman declined to comment.
Virtually all nominees who come from industry have to deal with conflicts of interest. White couldn't work on dozens of SEC cases, because of her past career as a defense lawyer. She also didn't participate in any SEC matters where her husband's law firm represented a party involved.
Political Affiliation
While Clayton's Wall Street connections are obvious, his political leanings are less clear. Voter registration records list him as having no party affiliation. His political contributions consist of a $1,000 donation given in 2013 to the campaign committee of Delaware Attorney General Beau Biden, the late son of Democratic Vice President Joe Biden, according to the National Institute on Money in State Politics.
Democratic lawmakers were skeptical of Trump's choice. California Representative Maxine Waters, the top Democrat on the House Financial Services Committee, said Clayton's nomination showed "Trump has no intention of getting tough on Wall Street."
Ohio's Sherrod Brown, the lead Democrat on the Senate Banking Committee, said "it's hard to see how an attorney who's spent his career helping Wall Street beat the rap will help keep President-elect Trump's promise to stop big banks and hedge funds from 'getting away with murder."'
For years, the SEC's agenda has been largely dictated by implementing rules required under the Dodd-Frank Act, the sweeping legislation Congress passed in response to the 2008 meltdown. Trump's transition team has promised to dismantle the law. Clayton would likely play a key role in efforts to roll back rules for investment firms and brokers.
To get the SEC back to full strength, Trump will also need to nominate two others to the five-member commission, another Republican and a Democrat. After White steps down, the SEC will be down to two commissioners, Republican Michael Piwowar and Democrat Kara Stein.
Before it's here, it's on the Bloomberg Terminal.
LEARN MORE