Brexit Bulletin: 'Muddled Thinking'
Departing envoy criticizes government as his resignation increases the risk of hard Brexit.
By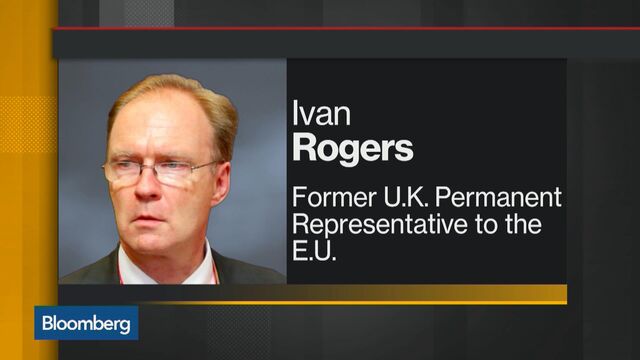 Sign up to receive the Brexit Bulletin in your inbox, and follow @Brexit on Twitter.
British Prime Minister Theresa May needs a new ambassador to the European Union sharpish.
Twelve weeks before May's deadline to quit the bloc, Ivan Rogers announced his departure as her envoy to Brussels on Tuesday, with the government saying he left early to ensure a successor is in place before Article 50 is invoked. The Daily Telegraph said May wants a successor who "believes in Brexit."
Rogers' resignation message, obtained by the BBC, left little room for doubt that the politically neutral diplomat had grave concerns over Brexit preparations.
May must be told the "uncomfortable" truth about how hard arranging the split will be, and he urged Britain's team in Brussels to keep challenging "muddled thinking" from London, while supporting a government lacking in negotiating skills and strong relationships with foreign officials.
In a thinly veiled rebuke to Brexit-supporting politicians, he added: "Contrary to the beliefs of some, free trade does not just happen."
Pro-Brexit campaigners cheered the loss of a diplomat they viewed as an EU fanatic lacking the sweeping vision for recasting relations.
Others lamented the departure of someone with long-term ties to the region's politicians and an understanding of how the EU works. 
According to Bloomberg's Ian Wishart and Tim Ross, the loss of Rogers increases the likelihood of a "hard Brexit" that prioritizes regaining control of immigration and laws over safeguarding trade. Such suspicion led the pound to fall yesterday. 
"Britain's partners will take this as a sign that May's government is heading for a hard Brexit which puts sovereignty ahead of economic integration with the EU," said Charles Grant, director of the Center for European Reform.
Goldman Sachs Predicts Transitional Deal
Meanwhile, banks remain focused on securing a transitional deal to ease them into the post-Brexit regime as they increasingly expect to lose the passporting rights that allow them to service the bloc from London. Goldman Sachs's economist Andrew Benito predicted yesterday they will get such a deal.

"That will involve some additional access being agreed between U.K. and EU markets in exchange for commitments being made to maintain financial sector regulations," economist Andrew Benito said in a report to clients on Tuesday. "It is also likely to involve additional U.K. contributions to the EU budget."
Global banks have warned that failure to secure a stop-gap will prompt them to speed up plans to shift operations and jobs from London.
JPMorgan Chief Executive Officer Jamie Dimon told this week's Financial News that "if there is not a clear transitional period decided early in the process, where passporting rules still apply for a few years after negotiations, then we'd likely have to accelerate our timetable in complying with new rules."
Change Britain Rebutted
Change Britain's report Tuesday that the U.K. will gain £450 million ($552 million) each week and generate 400,00 new jobs if it leaves the single market and customs union came under immediate fire.
Simon Tilford of the Center for European Reform called the pressure group's research "misleading and dishonest," while Gregor Irwin of Global Counsel labelled it "flawed and incomplete."
Irwin said the research ignored the £1.4 billion paid to non-public sector organizations such as universities and the £0.8 billion of payments to the EU for development, which the U.K. is committed to.
The study also predicted £12.3 billion from new trade deals, which Irwin said is "widely off the mark." He also said the idea future good trade will be tariff-free "cannot be taken for granted" and noted the report ignored non-tariff and regulatory barriers on trade that could be imposed on the U.K.
Separately, economist Nouriel Roubini told Bloomberg Television that the "idea that the U.S. is going to have a trade deal with the U.K. is totally far-fetched."
Brexit Bullets
Bank of England governing body said the Brexit vote increased reputational and operational risks to the central bank amid "unfavorable media coverage"
Brexit could cost U.K. 40 billion euros ($42 billion) of direct funding, said House of Commons library
Migration Watch noted the 20,700 cap on work permits had never been reached, in a criticism of businesses worrying about cuts to immigration
28 percent of consumers cite Brexit as biggest concern for 2017, according to Retail Economics
54 percent of European businesses see Brexit as threat, poll for RSM consultancy says
Chancellor of Exchequer Hammond heads to Middle East
On the Markets
The pound rose having slipped against the dollar following Rogers' resignation.
The Bank of England reported consumers borrowed at the fastest pace in more than 11 years in November, a sign that households continued their spending spree.
Mark Gilbert of Bloomberg View wrote today how sterling's post-referendum depression now looks overblown.

In equity markets, Bloomberg's Thomas Seal looks at what fund managers and analysts are saying about the 2017 outlook for U.K. sectors such as the military, energy and construction even as they are plagued by uncertainty over Brexit. 
And Finally
Is Brexit good or bad for farmers? 
Environment Secretary Andrea Leadsom used a speech in Oxford to say they will no longer have to display advertising billboards declaring they receive EU funding or be dictated to over crops. Leadsom, who campaigned for Brexit, will also detail how farmers can save £5 billion a year through reduced bureaucracy.
At the same time, the House of Commons Environmental Audit Committee warned in a new report that "U.K. farming faces significant risks" from Brexit through fewer subsidies and increased competition. 
For more on Brexit follow Bloomberg on Twitter, Facebook and Instagram, and see our full coverage at Bloomberg.com
Before it's here, it's on the Bloomberg Terminal.
LEARN MORE