Photographer: Dhiraj Singh/Bloomberg
On India, Credit Suisse Says Buy the Rupee and Forget About Demonetization
Forget about demonetization
By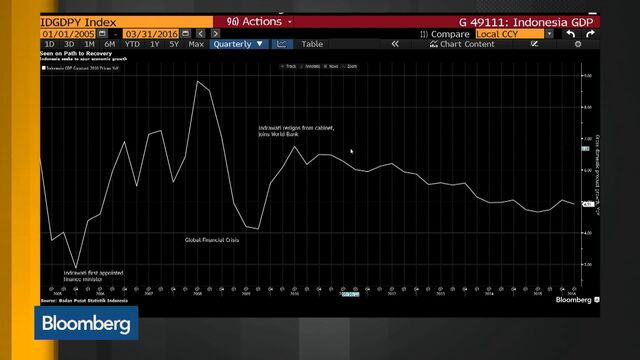 Go long on the Indian rupee and ignore the noise over Prime Minister Narendra Modi's surprise ban on cash. That's the advice from Credit Suisse AG to emerging-markets investors looking for bets to counter a strong dollar.

"We like the rupee as India has a very strong basic balance surplus, which affords a shield against the rising U.S. dollar and interest rates,'' Koon How Heng, senior FX investment strategist at Credit Suisse,  said in an interview with Bloomberg TV on Tuesday. "A lot of people don't realize this because the attention is on demonetization."

The dollar surged to a 14-year high on Tuesday before paring gains after a report showed American manufacturing expanded at the fastest pace in two years in December, taking gains since the U.S. election to more than 6 percent. A stronger greenback and rising Treasury yields lead to capital outflows from developing markets, weakening local currencies. Less reliance on exports and one of the world's fastest economic growth rates will help make India a safer investment destination this year, said Heng. 


India's basic surplus swelled to a record $30 billion in the 12-month period ended September as Modi's measures to attract foreign direct investments took hold, said Heng. That's a turnaround for a country struggling with "deep deficits'' of about $50 billion in 2012-2013, he said. 
"EM countries with strong basic surpluses are better poised to withstand risks of capital outflows," he said, contrasting India's outlook with Indonesia, which has been running fiscal and large current-account deficits. ``This year will be a year of dollar dominance.''

"This twin deficits makes the rupiah very susceptible to any capital outflows and bouts of volatility," he said. "This is why the Indonesian currency weakened significantly in the week following Trump's successful election in early November."

India's economy will grow 6.9 percent in the year through March as the banknote recall triggers a slowdown, according to the median estimate in a Bloomberg survey published late last month. That's slower than the 7.3 percent predicted by a survey in November and the previous year's 7.6 percent actual expansion. Still , analysts expect the impact to be transient. Morgan Stanley predicts expansion of 7.6 percent next year, according to a Dec. 8 report. The government is due to publish its first growth estimate for the year through March on Friday.

The rupee weakened 2.6 percent last year, its sixth straight annual decline against the dollar. The currency added 0.1 percent to 67.97 per dollar in Mumbai, set for a second day of gains.

(Updates to add rupee performance.)
Before it's here, it's on the Bloomberg Terminal.
LEARN MORE