quicktake
Why Brexit Is Work in Progress Six Months Later: QuickTake Q&A
By , , and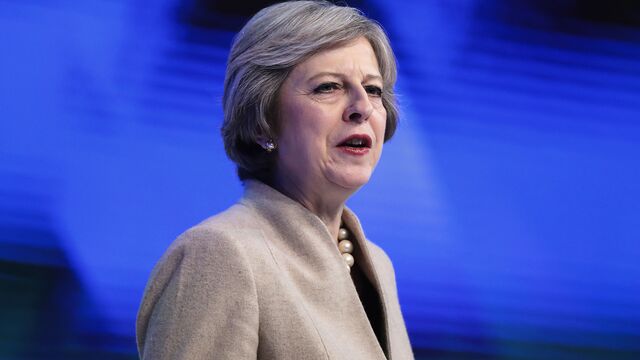 U.K. Prime Minister Theresa May entered 2017 with just three months to meet her self-imposed deadline to trigger divorce talks with the European Union. In a much-anticipated speech on Jan. 17, she outlined her vision for what her Brexit secretary, David Davis, has called possibly "the most complicated negotiation of all time." And that was before Parliament won the right to weigh in.
1. What's taking so long?

Though Britain voted in June 2016 to leave the EU, May has stalled on starting two years of formal talks. She's wanted time to prepare a negotiating stance. The EU has stuck to its line that it won't hold even informal discussions until the U.K. triggers Article 50 of the Lisbon Treaty, which governs withdrawal from the bloc. And there was disagreement on who, exactly, has the power to invoke it.
2. So who has the power to invoke it?

May said she did, but the U.K.'s Supreme Court ruled that Parliament does. The government has now introduced legislation -- an Act of Parliament -- which at 137 words is short and sweet, because May wants to stick to her timetable and limit the opportunity for lawmakers to add amendments. Her critics in Parliament are nevertheless lining up to impose roadblocks, such as forcing May to give regular updates on negotiations or to demand she brings the final deal back for a proper vote in Parliament.
Read more: Why Brexit's Detour Through Parliament Matters
Read more: What Does U.K. Ruling Mean for Brexit and What Comes Next?
3. Could Parliament derail Brexit?
In theory, yes. In reality, no. While most members of Parliament were against Brexit, they're reluctant to act against the will of the voters. At the first reading of the bill, the government won the vote 498 to 114. Still, it now gets reviewed line by line, and the opposition has proposed more than 200 amendments. What will worry May the most is that some in her own Conservative Party want to make tweaks, such as requiring a vote on the ultimate deal. As she only has a majority of 16, a rebellion is possible and could slow the process down or even weaken her ability to negotiate.
Read more: What Does a Parliamentary Vote on Brexit Mean?
4. What does May want?
In her Jan. 17 speech, May said she wants to pull the U.K. out of the single market. That's the only way the U.K. can control immigration from the EU, pay less into the bloc's budget and restore law-making powers to the U.K. Parliament and courts, she concluded. That's the formula for what's become known as a "hard" or "clean" Brexit. She has yet to outline how she would want to control immigration.
Read more: What Makes a 'Hard Brexit' Harder Than a Soft One
5. What does Brexit mean for banks?
British bankers may vote with their feet. Executives from JPMorgan Chase & Co., HSBC Holdings Plc and UBS Group AG responded to May's speech by saying they are likely to shift jobs and operations elsewhere to ensure continued access to the EU. They would also like a transitional period to get ready for whatever follows Brexit; a report by PricewaterhouseCoopers LLP suggests three years is necessary, but Davis says any stopgap would need to be only one to two years. Having initially sought to maintain so-called passporting, which allows global banks with bases in London to provide services to the rest of Europe, lobby groups are also increasingly focusing on securing a version of "equivalence," which can give privileged, though targeted, market access.
Read more: Goodbye Passport, Hello Equivalence?
Read more: Will Brexit Trigger Exodus of Banks From London?
Read more: Brexit Puts Financial Clearing Work Up for Grabs
6. What about trade?
May said she wanted to overhaul Britain's membership of the customs union, the tariff-free, low-bureaucracy club of mainly EU countries. She would still like easy trade with the bloc, but also wants the freedom to negotiate trade pacts with non-EU economies such as China and the U.S., which she now lacks. U.S. President Donald Trump has said he would seek a speedy trade pact with the U.K., although such a promise risks irritating May's EU interlocutors who don't care for Trump.
Read more: How Does U.K. Want to Trade With EU Post-Brexit?
7. Why might the EU accept May's approach?
May argued it would be "economically rational" for the region to sign up for continued free trade with the U.K., since Britons buy so much of its goods, and warned that punishing Britain for its departure would be a "calamitous act of self harm" by Europe. She said Europe benefits from the U.K.'s security capabilities and signaled that, if pushed, she could transform her economy into a low-tax, light-regulation haven. She left some wiggle room for concessions, however, by choosing not to detail how tightly she will limit immigration and by signaling she could still make contributions to the EU purse.
8. How did the rest of Europe respond?
European leaders welcomed May's clarity, but repeated they would not discuss the details of a deal until she has formally notified them of her plan to withdraw from the bloc. They also reminded her that she couldn't "cherry pick" the best bits of EU membership and escape the responsibilities, which may mean they'll try to nix her customs union proposal. European leaders don't want to reward Britain with a generous settlement in case other EU members start eyeing the exit. Another obstacle to a trade deal is time. While May suggested one could be lined up within two years, Canada's pact with the EU took seven years, and it's still not ratified and doesn't accommodate financial services.
9. How long will the talks take?
Article 50 allows two years, which could technically be extended if all 28 members of the EU, including the U.K., agree. Once May proposes the terms of an exit, the rest of the EU could take a while to form a response, especially since this is an election year in France and Germany. Both sides seem to agree that they really have just 18 months to reach an accord, because then it would need to obtain the consent of the European Parliament. After two years, Britain would leave the EU regardless of whether it has secured a new trading relationship. If it hasn't, U.K.-EU commerce will be exposed to World Trade Organization tariffs, following years of duty-free trade. May, playing hardball, says no deal beats a bad deal.
10. How will the talks be structured?
The U.K. has to negotiate both its break from the EU and the terms of a new trading relationship. European Commission negotiator Michel Barnier wants to focus first on the separation, which involves Britain settling budget commitments that Barnier is said to estimate at 60 billion euros ($63.7 billion). Borders, pensions for British EU staff and the rights of U.K. and EU citizens in each other's economy need to be resolved. "Agreement on orderly exit is prerequisite for future partnership," Barnier tweeted on Jan. 17. The British would prefer to discuss the split and the new deal in concert, to provide businesses with more certainty and to win trade-offs in the talks. If May balks at the bill, negotiations could be testy.
The Reference Shelf
Before it's here, it's on the Bloomberg Terminal.
LEARN MORE