U.K. Labour Too Weak to Win Next Election, Research Group Says
by
Fabian Society urges Labour to co-operate with other parties

Analysis sees Labour on course to take fewer than 200 seats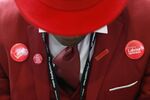 Labour is too weak to win the next U.K. general election, when the opposition may post its worst result since 1935 with as little as 20 percent of the vote, according to the Fabian Society, a research group that helped found the party.
Labour is losing votes both to supporters of Britain's departure from the European Union, which are switching to the ruling Conservatives and the U.K. Independence Party, and to opponents of Brexit, who are going over to the Liberal Democrats, the society said in a report posted Monday on its website. With the next election due in 2020, Labour has "no choice but to reach out to people in both camps," it said.
Labour failed to capitalize on Tory divisions during the referendum campaign and dissolved into its own internal battle after the vote for Brexit, with moderates seeking to overthrow their hard-left leader, Jeremy Corbyn. While he overcame that rebellion to win the leadership for the second time in a year, he "seems to have no road map for winning back lost voters," Fabian Society General Secretary Andrew Harrop wrote. He said Labour should consider working with other opposition parties, including the Greens and the Liberal Democrats.
"Labour is too strong to be supplanted by another opposition party and too weak to have any realistic chance of governing alone," Harrop said. "A wounded Labour Party will have to get used to the idea that it will need to work alongside others."
Harrop said Labour is on course to win fewer than 200 seats at the next election, down from 231 now, and it could win as few as 140, according to the report. It needs 326 seats to win an outright majority in the House of Commons.
"Quite rightly the Fabian Society say the roots of Labour's problems predate Jeremy Corbyn, were there at the 2015 election and in some ways there in the 2010 election," John Healey, the party's spokesman on housing, told BBC radio on Tuesday. "These are big challenges for Labour, but I do not see the answer to Labour's challenge as being to team up with the Liberal Democrats, the Greens and a ragbag of other parties."
Before it's here, it's on the Bloomberg Terminal.
LEARN MORE