Turkish Lira Plunges Most Worldwide to Record Low Per Dollar
By
Deteriorating economic data compounds rising terrorism concern

Nomura sees currency weakening past 4.00 in the first half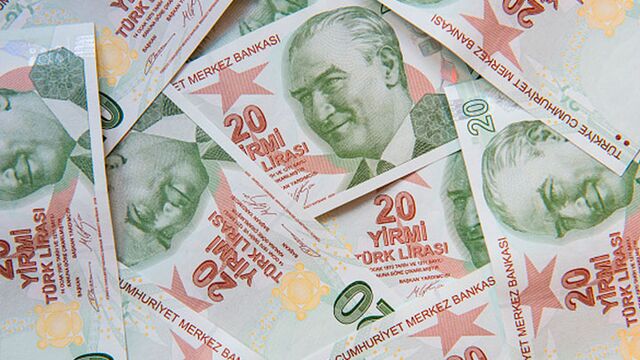 Turkey's lira weakened the most among major world currencies on Tuesday, falling as much as 1.7 percent to a new record, as the killer of 39 people at an Istanbul nightclub remained at large and inflation accelerated more than estimates in December.
The lira depreciated to a record 3.6042 against the dollar before trading 1.5 percent lower at 3.5969 as of 6:19 p.m. in Istanbul, bringing its decline over the past 12 months to 19 percent. The annual inflation rate was 8.53 percent last month, above all estimates and more than 3.5 percentage points above the central bank's target, Turkey's official statistics agency said earlier in the day.
The deterioration in economic data, including negative growth in the third quarter and consumer confidence near record lows in December, is compounded by increasing security risks. Islamic State claimed the New Year's attack at the Reina nightclub shortly after Istanbul rang in the new year, and Turkish authorities have yet to track down the killer. Turkey's Prime Minister Binali Yildirim submitted an extension of emergency rule to parliament, the state-run Anadolu Agency reported.
"Market participants are looking for signs that the central bank is taking the inflation threat seriously," said Henrik Gullberg, a strategist at Nomura in London who said he predicted the lira would fall past 4.00 in the first six months of the year. "Until we see aggressive policy tightening, similar to early 2015, the lira will continue to sell off on bad news like the terrible terror attack, whilst not appreciating back when sentiment is more supportive."

Following the jump in consumer prices, "the pressure on the central bank to respond is likely to increase," Morgan Stanley analyst Ercan Erguzel said in an e-mailed report today. The Turkish central bank will probably increase the policy rate by 25 basis points when it meets on Jan. 24, he said.
Bulent Gedikli, an adviser to President Recep Tayyip Erdogan, said such calls were just a "market-hurting cliche." Erdogan and his economic team say interest rates should be cut to boost growth and investment.
"Raising interest rates in this period would break the economy's back, that's all," Gedikli said via Twitter.
Stocks, Bonds

The yield on 10-year government notes closed 2 basis points higher at 11.52 percent, after paring an earlier surge of as much as 20 basis points
The Borsa Istanbul 100 Index, the country's benchmark gauge of equities, declined 1.5 percent, the biggest slump in more than four weeks
The equity index fell below its 100-day moving average
"Stocks failed to resist the pressure from weaker lira and bonds," Gulsen Ayaz, head of institutional sales and trading at Istanbul-based Deniz Invest, said by e-mail. "With December inflation numbers and possible extension of the state of emergency, no Turkish asset class is able to escape the selloff."
Before it's here, it's on the Bloomberg Terminal.
LEARN MORE