Singapore's Economy Expands More Than Economists Estimated
By
GDP rose 9.1% q/q in fourth quarter, fastest since 2Q 2013

2016 full-year growth of 1.8 percent slowest since 2009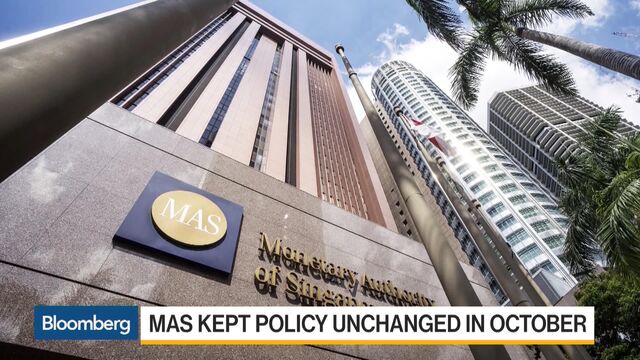 Singapore's economic growth quickened to the fastest pace in more than three years last quarter as manufacturing and services rebounded.
Key Points
Gross domestic product rose an annualized 9.1 percent in the three months to December from the previous quarter, when it declined a revised 1.9 percent, the trade ministry said in a statement on Tuesday
The median estimate of nine economists in a Bloomberg survey was for a 4 percent expansion
GDP rose 1.8 percent in the fourth quarter from a year earlier, compared with the 0.3 percent median estimate in a Bloomberg survey
The economy expanded 1.8 percent in 2016, the slowest pace since 2009
Big Picture
Singapore, among Asia's most-export dependent nations, is seeking new growth engines to boost incomes as its population ages and trade falters. With global growth under pressure and the U.S. threatening to turn more protectionist under Donald Trump, the outlook remains cloudy. That will be a consideration for the central bank in its April policy review after it signaled in October it will stick to its neutral currency policy for an extended period of time.
"Overall, we are not doing badly, considering the global economic uncertainties," Prime Minister Lee Hsien Loong said in a New Year message Dec. 31. "While the labor market has eased, unemployment remains low and we are still creating new jobs."
Market Reaction
The Singapore dollar erased an earlier decline after the GDP report, trading little changed at 1.4503 against its U.S. counterpart as of 8:44 a.m.
Economist Takeaways
"I still think Singapore is in a very challenging condition," said Edward Lee, regional head of research at Standard Chartered Plc in Singapore, who expects 2017 growth to slow to 1.4 percent. "External conditions remain extremely challenging and we certainly have to be watchful for materialization of anti-globalization and anti-trade sentiment. Any materialization of that will further dampen the already very weak global trade conditions."
"For now, my forecast is that there will be no further easing in April," he said, referring to monetary policy.
"Prospects of a more protectionist trade policy would be negative for Singapore" which is wedded to the old export model and this will have a knock-on impact on domestic incomes, said Weiwen Ng, an economist at Australia & New Zealand Banking Group Ltd. in Singapore. "Domestic demand weakness should continue to weigh on an already subdued labor market."
Other Details
The services industry, which accounts for about two-thirds of the economy, rose an annualized 9.4 percent in the fourth quarter from the previous three months
Manufacturing jumped an annualized 14.6 percent
The advance GDP estimates for the fourth quarter are computed largely from data in the first two months of the quarter, and are subject to revision when more comprehensive data become available
— With assistance by Sebastian Tong, Jeff Kearns, and Myungshin Cho
Before it's here, it's on the Bloomberg Terminal.
LEARN MORE