PBOC Injects Markets With Record MLF Funds Amid Outflow Pressure
Bloomberg News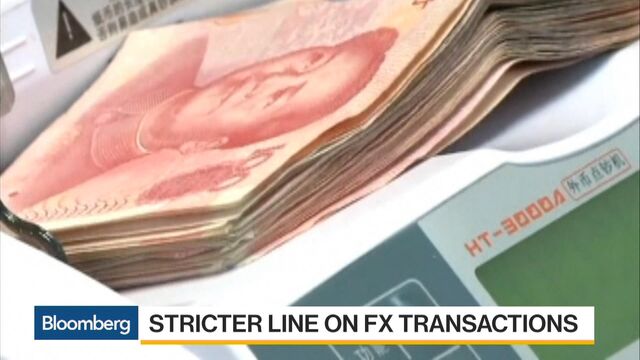 China has made unprecedented injections into the financial system through one lending tool amid an acceleration in capital flowing out of the world's second-largest economy.
The balance in the Medium-term Lending Facility increased 721.5 billion yuan ($104 billion) in December, People's Bank of China data showed Tuesday. That was the biggest jump since the central bank started publish information about the liquidity tool in September 2014. The total outstanding for those operations was 3.46 trillion yuan, also a record, PBOC data show.

Capital outflow pressures have intensified as the yuan posted its steepest annual drop in more than two decades. The central bank is stepping up its push to maintain sufficient funding in the market while also transitioning to a more neutral monetary policy and putting more focus on reducing risks from high debt levels.
Read more: China's stricter rules on converting yuan
"It's a register of the amount of work the PBOC is having to do to maintain liquidity in the face of continuing and maybe escalating capital outflows," said Tom Orlik, chief Asia economist at Bloomberg Intelligence in Beijing. "Coming at a time when the bar for capital outflows is being raised, it shows China's authorities working multiple channels to manage the stresses from a weakening yuan."
The total injection was 733 billion yuan, while the PBOC allowed 11.5 billion yuan of MLF to mature during the month, the PBOC said.
— With assistance by Yuling Yang, and Miao Han
Before it's here, it's on the Bloomberg Terminal.
LEARN MORE