New Year's Money Curbs May Prompt More Use of China Outflow Pipe
Bloomberg News
Analysts say savers may move money fearing additional rules

Pace of capital outflow has accelerated as yuan weakens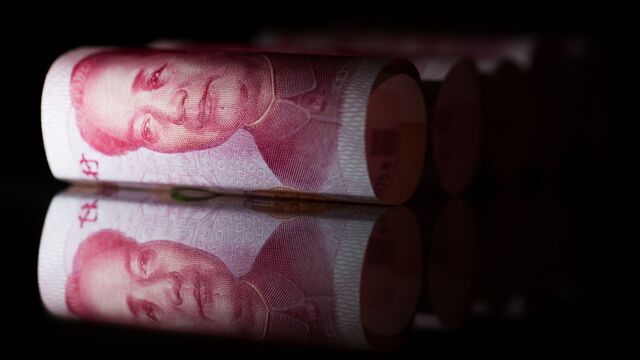 On the day bank branches reopened after China imposed restrictions on citizens trying to spirit money out of the country, Wendy Chen went to her branch in Shanghai and peppered staff with questions about how to get around the new controls.
She was asking after the Jan. 1 rules required people converting yuan into dollars to provide detailed information on how they planned to use the money abroad and restricting its use.
"Would I be required to provide evidence if the regulator challenges me? Would I be caught if my family members use their quota and send the money to my account? What does blacklist mean?" Chen asked employees at Bank of Communications Co. on Monday. She was trying to convert $100,000 worth of yuan for her 13-year-old son's eventual college education in Australia by combining her and her husband's annual quotas for 2017. Chen said she hoped to preempt more tightening as a weakening yuan accelerates demand to shift money overseas. When staff told her the rules only permit current tuition payments, not future plans, she went away to ponder how to get around the restriction.
"I'm not that concerned about further depreciation," said Chen. "I'm most worried about the extra scrutiny, so I just want to get as much money out while I still can."
Delicate Balance
Chen's thinking puts a spotlight on a delicate balancing act for China's authorities. By strictly enforcing existing rules and implementing new ones, they may only fuel demand to get money out in anticipation of more stringent measures.  
"As always with China, we will see new leaks appear in the pipe as the money finds new avenues and loopholes in order to escape," said Keith Pogson, a Hong Kong-based managing partner at Ernst & Young.  
Among measures rolled out by the State Administration of Foreign Exchange -- China's currency regulator known as SAFE -- were requirements to inform banks of the planned use of funds and to pledge that the money won't be used to buy overseas assets such as property or investment-linked insurance products. Rule violators will go on a watch list. Chinese buying of homes overseas has prompted huge surges in property prices from Vancouver to Sydney and elsewhere.
'Stable' Currency
In a statement on Dec. 31 announcing the measures, SAFE said the yuan will remain stable and noted that China's interest rates are higher than those in the U.S. or the European Union. It also said it would increase oversight of individuals doing foreign-exchange trading.
"The market should build the right awareness of risks, overcome the temptation of behaving in herd actions, and make rational investments based on real demand," SAFE's statement said.
Chinese citizens are allowed to convert $50,000 of foreign currency a year.
The new restrictions follow a flurry of curbs late last year on everything from companies buying assets overseas to offshore purchases of life insurance and checks on capital-account transactions involving foreign exchange of $5 million or more.
While China has always maintained a tightly controlled but porous capital border, the aggressive effort to plug leaks is a clear signal that authorities are no longer in the mood to turn a blind eye to outflows, said Liao Qun, Hong Kong-based chief economist at Citic Bank International Ltd.
"In the past, they were one eye closed and one eye open, but now, they turned to both eyes open wide," he said.
Faster Outflows
Capital outflows from China accelerated in recent months as the yuan suffered its worse year of losses against the U.S. dollar since 1994. About $760 billion left in the first 11 months of 2016, according to a Bloomberg Intelligence gauge. While the flow of money leaving, including through illicit channels, is still below the record levels of 2015 and early 2016, pressure is building. 
Goldman Sachs Group Inc. in December estimated that a total of $1.1 trillion of foreign currency has left China since August 2015, when authorities devalued the yuan, and the U.S. bank has projected further outflows in this quarter. That will pressure China's foreign-exchange reserves, the world's largest, as authorities intervene to support the yuan. The stockpile fell to a five-year low of $3.05 trillion as of November.
To be sure, not all of the money leaving China can be dubbed as capital flight. Companies have rushed to pay down foreign debt and investors are diversifying their overseas holdings.
Cutting Demand
Tighter currency rules could prove effective in curbing demand for dollars said Zhao Yang, chief China economist at Nomura Holdings Inc. in Hong Kong. "Requirements to fill out the form before purchasing foreign currencies is a reminder that there are very limited channels to move funds out of the country," Zhao said.
Still, previous crackdowns haven't managed to stem the tide. One example: insurance sales in Hong Kong to Chinese residents surged to a record in the third quarter of last year even as officials tightened rules to control outflows. Mainlanders' purchases of Hong Kong insurance more than doubled in the third quarter from a year earlier.
"Government actions tend to reinforce the fear factor," said Kevin Lai, chief economist for Asia excluding Japan at Daiwa Capital Markets in Hong Kong. The more the government tries to stop outflows, "the more people think something is wrong and they must find ways to get out."