Ford Decision Cements Mexico as 'Front Line' for Trump's Policy Agenda
Peso, parts supplier tumble as Ford gains
By , , and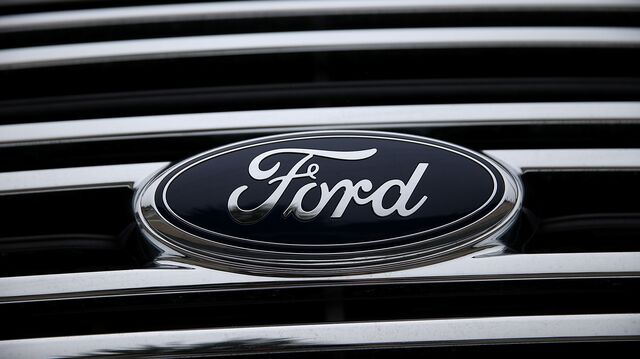 What happened in small-town Michigan Tuesday morning certainly didn't stay there.
Ford Motor Co.'s announcement in Flat Rock that it would forego building a $1.6 billion plant in Mexico sent the peso tumbling along with shares in one of the country's major parts suppliers. Ford jumped, while Kansas City Southern - which generates 41 percent of its revenue south of the border - sank. The cost of insuring Mexico's bonds against nonpayment touched the highest level in almost three weeks. 

That a relatively minor investment decision from a $49 billion auto giant roiled such a diverse set of assets underscores the tricky landscape investors must navigate in 2017 as Donald Trump prepares to take office. The president-elect's proclivity for policy declarations on Twitter has left most without a playbook as he opines on everything from China's currency to the F-35 fighter.
``It is going to be a choppy ride as the market and press get to understand the new administration's policy agenda," said Andrew Stanners, an investment manager at Aberdeen Asset Management, which has $11 billion in emerging-market debt including Mexican peso bonds. "Unfortunately for Mexico, it is on the front line."

The peso, which acted as a barometer of Trump's perceived odds during the U.S. campaign, fell the third-most in the world last year on concern that the new administration would renegotiate the North American Free Trade Agreement and curb illegal immigration by building a wall along the U.S.'s southern border. It reached a fresh low Tuesday, dropping 0.8 percent to 20.8904 per dollar following Ford's announcement at 11:03 a.m. New York time.
Ford Chief Executive Officer Mark Fields, whose company was criticized by the real estate mogul for producing south of the border cars sold in the U.S., previously indicated that he was willing to work with the president-elect to keep jobs in the country.
Kansas City Southern, which according to Bloomberg estimates generates a little less than 1 percent of its revenues from the U.S. carmaker, fell the most in the Dow Jones Transportation Average. Nemak SAB, a Mexican parts supplier that counts Ford among its customers, fell more than 3 percent.  The Latin American nation's five-year credit default swaps spiked on Tuesday, pushing them up from a 13-month low in August. 
A Trump tweet earlier Tuesday provided a fresh reminder that the auto industry remains on his mind as the new year gets under way.
He claimed that General Motors Co. should either manufacture its Chevy Cruze in the U.S. or pay a "big border tax" when the cars enter the country from Mexico, sparking a brief selloff in the stock during the premarket session.
GM then issued a statement indicating that its Cruze sedans sold in the U.S. are also produced domestically.
Fields, for his part, said that he informed Trump and Vice President-elect Mike Pence of the decision to expand operations in Michigan this morning. The CEO later said ``absolutely'' they would've done this even if Trump had not been elected.
Before it's here, it's on the Bloomberg Terminal.
LEARN MORE