business
FBI Settles Eavesdropping Lawsuit With Wife of Inside Trader
By
Craig Drimal's wife claims agents improperly listened to calls

Agreement comes amid disclosure of FBI leaks in separate case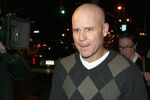 The wife of a convicted inside trader has chalked up a rare win over the FBI, with the agency agreeing to settle a lawsuit that claimed agents eavesdropped on her intimate conversations with her husband.
Arlene Villamia Drimal, wife of former Galleon Group LLC trader Craig Drimal, sued 16 FBI agents, claiming they "wrongfully intercepted" more than 180 private calls between her and her husband during the investigation. Terms of the settlement weren't made public.
The Federal Bureau of Investigation doesn't usually settle such lawsuits, but the bureau is coming under increasing scrutiny in white-collar crime probes. The settlement with Villamia Drimal comes as an FBI agent potentially faces criminal charges for leaking details of another insider-trading investigation to the New York Times and Wall Street Journal. In that case, Las Vegas gambler Billy Walters is attempting to have insider-trading charges thrown out because of the leaks.
Soon after a judge refused in July to throw out all of Villamia Drimal's claims, settlement talks began, the two sides said in a joint court filing.
Villamia Drimal sued in 2012 the current and former agents who tapped her husband's phone during an investigation that also brought down Galleon Group co-founder Raj Rajaratnam.
Villamia Drimal claimed the agents were required to stop listening once it became apparent the calls were between husband and wife. Such conversations are considered confidential and can't be used in court. 
The agents listened in anyway. The U.S. Attorney in New York later characterized one such incident as "indefensible," Villamia Drimal said in her complaint. She didn't make the content of the calls public, other than to say that many "involved deeply personal and intimate issues."
A judge in 2011 said he was "deeply troubled" by the agency's failure to stop listening to unrelated, personal calls.
For an insider-trading QuickTake, click here.
A federal appeals court threw out Villamia Drimal's lawsuit in May, but said it could go forward if it focused on fewer agents. The judge overseeing the case then allowed some claims to proceed against three of the defendants. The settlement was disclosed in a Dec. 5 court filing.
Villamia Drimal's lawyer, John R. Williams, didn't immediately respond to voice-mail and e-mail requests for comment.
Adrienne Senatore, a spokeswoman for the FBI in New York, referred questions to the Justice Department. Justice Department spokesman Peter Carr didn't immediately return a phone message. Tom Carson, a spokesman for the U.S. Attorney in Connecticut declined to comment.
Craig Drimal was sentenced to 5 1/2 years in prison in 2011 after pleading guilty to making $6.47 million from trading on inside information obtained from lawyers working on transactions involving 3Com Corp. and Axcan Pharma Inc. He was released from prison in September.
Walters was charged in May with trading shares of Dean Foods Co. based on inside tips from Thomas Davis, the company's former chairman, who pleaded guilty and is cooperating with investigators. Walters pleaded not guilty. Golfer Phil Mickelson, who was also investigated by the FBI, reached an agreement with the SEC to return proceeds of almost $1 million. He wasn't accused of wrongdoing.
Rajaratnam was convicted in 2011 of 14 counts of conspiracy and securities fraud after a trial in 2011. He's serving an 11-year prison sentence.
The case is Drimal v. Makol, 12-cv-00717, U.S. District Court, District of Connecticut (New Haven).

(
Updates with settlement talks in fourth paragraph.
)
Before it's here, it's on the Bloomberg Terminal.
LEARN MORE