Ex-Hong Kong Chief Tsang Pleads Not Guilty to Bribery Charge
By
Tsang is highest ranking former official accused of corruption

Charges relate to refurbishment of an apartment in Shenzhen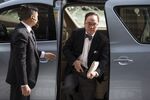 Hong Kong's former top leader, Donald Tsang, pleaded not guilty to a charge of bribery related to the refurbishment of an apartment he was renting by a businessman who had matters pending before the city's government.
Tsang was accused Oct. 11 of violating the city's Prevention of Bribery Ordinance. The bribery charge, in addition to the two counts of misconduct to which he had already pleaded not guilty, carries a maximum HK$500,000 ($64,000) fine and seven years in jail. The trial is expected to last until mid-February.
Tsang, 72, is the city's highest-ranking former official to face charges from the Independent Commission Against Corruption, intensifying scrutiny of ties between government officials and business interests in the former British colony. The bow-tie-wearing Tsang took the top job in 2005 after the resignation of Tung Chee-hwa. He presided during a period of soaring property prices and global financial turmoil.
It's the first high level bribery case in the Asian financial hub since the 2014 conviction of Hong Kong's former No. 2 official, Rafael Hui, for taking HK$8.5 million from property billionaire Thomas Kwok. Hui, chief secretary during the first two years of Tsang's administration, was sentenced to 7 1/2 years in prison. Kwok is appealing his five-year punishment.
'Systemic Problem'
The anti-corruption body itself has recently come under pressure after its acting head of operations, Rebecca Li Bo-lan, was removed from her role in the midst of an investigation into whether current Chief Executive Leung Chun-ying failed to disclose a HK$50 million payment from an Australian construction company. The agency's chief said in July that he notified Leung before making his decision to remove Li, and that Leung hadn't given his views or taken part in the decision process.
The Tsang affair is an embarrassment to Beijing, which controls the chief executive selection process via a 1,200-member election committee stacked with supporters. Tung departed after protests and Tsang ended his term under investigation. Leung, whose popularity has plummeted, isn't seeking a second term.
"It is a systemic problem that won't be fixed until we have electoral reform," said Lam Cheuk-ting, a Legislative Council lawmaker and former anti-corruption investigator. His motion for a select committee to investigate Li's removal was approved by the legislature in November.
'Personal Integrity'
"You can't just blame the system," he added. "It is about the personal integrity of the people themselves."
The Tsang case revolves around whether the former chief executive failed to disclose the apartment between 2010 and 2012, when he left office after seven years as chief executive. The rental deal for the three-story apartment in the adjacent Chinese city of Shenzhen involved a major shareholder in Digital Broadcasting Corp., which at the time was applying for a broadcast license, according to prosecutors.
Tsang had already pleaded not guilty to a charge of misconduct in public office over allegations that he failed to disclose the relationship, as well as another charge that he supported the apartment's interior designer for a top city honor. 
The case is Hong Kong Special Administrative Region v Tsang Yam-kuen Donald, HCCC484/2015, Hong Kong High Court.
Before it's here, it's on the Bloomberg Terminal.
LEARN MORE