Europe's Bonds Drop Amid Signs of Building Inflationary Pressure
By
Inflation in Germany, region's largest economy, accelerates

Yields surge across the board in Europe, Treasuries fall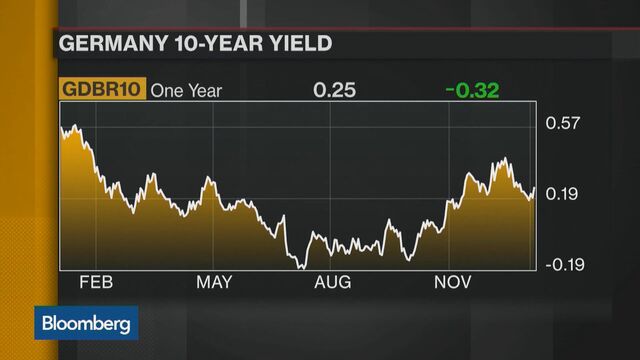 European government bonds declined amid signs inflationary pressures are building in the region, clouding the outlook for monetary policy in 2017.

Yields surged across the bloc as data released Tuesday showed that inflation in German regions accelerated and oil as well as other commodities jumped. Data last week showed consumer prices in Spain rose at the fastest pace since 2013. A drop in gilts intensified after U.K. manufacturing grew at the quickest in 2 1/2 years in December.
"The German inflation numbers were very high, it may be spooking the markets a little bit," said Allan von Mehren, chief analyst at Danske Bank A/S in Copenhagen. "One thing that the bond market could start to fear this year is any tapering from the ECB or discussion of that. If inflation starts to pick up, this tapering discussion could intensify during the year. I think that's probably behind this move" lower in bonds, he said.
The yield on Germany's 10-year bunds rose six basis points, or 0.06 percentage point, to 0.248 percent, having earlier touched its highest since Dec. 23. Similar-maturity U.K. gilt yields climbed eight basis points, the most since Dec. 15, to 1.32 percent.
France 10-year yield climbs 8 bps to 0.75%, while Ireland's rises 12 bps to 0.87%
Saxony region annual CPI climbs 1.8% in December after increasing 0.8% in November
Treasury 10-year yields rise 6 bps to 2.503%
Before it's here, it's on the Bloomberg Terminal.
LEARN MORE