ECB's New Year Jolt From Oil Jump Augurs Shift in Tone of Debate
By
German inflation unexpectedly jumps to 1.7%, most since 2013

Euro-area rate seen picking up to 1% in survey of economists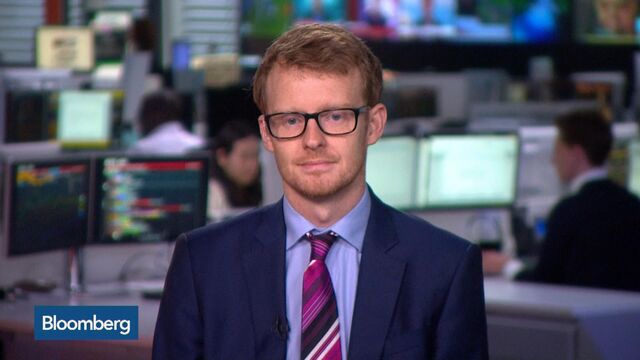 The European Central Bank's discussion on price stability is about to change its tone.
A record increase in Germany's inflation rate, released on Tuesday, brought a New Year jolt to officials barely back at work and provided those critical of ever-larger stimulus with some of the hardest data yet to support their arguments. While the surge to 1.7 percent in the region's biggest economy is mainly due to oil, its proximity to the ECB's definition of price stability of just below 2 percent augurs a year when policy makers' conversations may dwell more on economic numbers rather than just forecasts.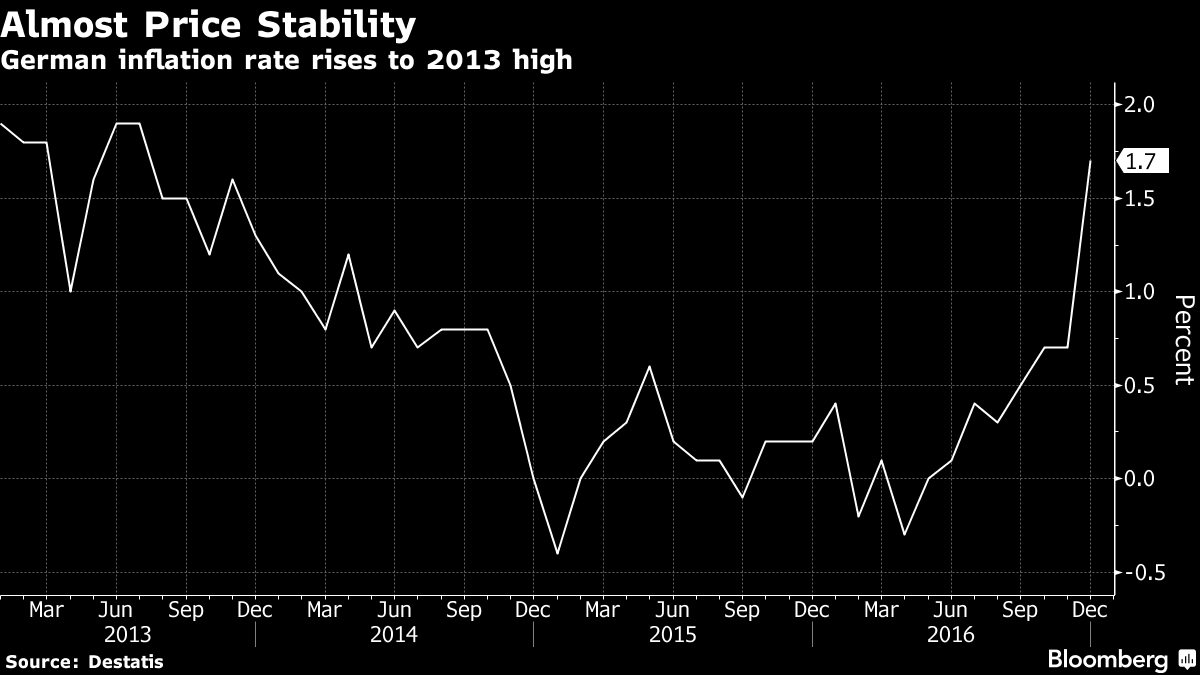 That throws a new light on Wednesday's euro-zone inflation data for December, predicted by economists to echo Germany's with the highest reading since 2013, albeit at a much-lower 1 percent. With its next decision due on Jan. 19, the ECB's economic narrative is likely to remain firmly focused on the underlying weaknesses in the region's price pressures.
"The deflation devil is gone," said Jens Kramer, an economist at NordLB in Hanover, Germany. "On the other hand, it's mainly driven by oil prices, which is something that monetary policy can't influence."
Kramer is among 12 economists to predict a reading of 1.1 percent in the euro-zone inflation data due at 11 a.m. in Luxembourg on Wednesday, the highest forecasts in a Bloomberg survey. The median is 1 percent, and the lowest anticipated result is 0.6 percent, seen by Alastair Winter at Daniel Stewart & Co., and economists at Sparkasse Suedholstein, and matching November's figure.
In France, the region's second-biggest economy, consumer prices are also accelerating, though at a much slower pace. Its inflation rate rose for a second month in December, according to data also released on Tuesday. Spain reported inflation of 1.4 percent last month. Italian numbers are due on Wednesday.
The German release showed a 1 percentage-point increase in the overall rate from November, the most since European Union harmonized numbers start in 1997. That reflected a 12.6 percent jump in Brent crude in December, adding to accelerating price growth that fueled services inflation of 1.5 percent.
Forward Looking
Bundesbank President Jens Weidmann, one of the ECB's most hawkish officials, has pointed to different assessments about the appropriate stance of monetary policy and argued in favor of a speedy unwinding of stimulus that was extended only last month, once price growth allows.
"We must act in a forward-looking way," he said in an interview with Germany's Bild newspaper published Dec. 26. "That means to tighten the reins as soon as inflation begins to be on a sustainable path to our goal."
For Clemens Fuest, president of the country's Ifo research institute, that time might have already come. The ECB should end quantitative easing in March if inflation elsewhere in the region picks up in a similar fashion as in Germany, he told Frankfurter Allgemeine Zeitung.
Balance of Risk
Policy makers have pledged to continue the large-scale bond purchases they started in March 2015 until at least the end of 2017, with the monthly pace dropping to 60 billion euros ($63 billion) in April from the current 80 billion euros. Their next quarterly assessment of the economic outlook will be on March 9.
ECB officials, who anticipated accelerating headline inflation because of oil and commodities, are waiting for signs of a sustained pickup in measures excluding those volatile components. While President Mario Draghi said last month that price pressures remained weak, Executive Board member Benoit Coeure said in an interview with Boersen-Zeitung published last week that "our assessment of the balance of risks, including for inflation, is shifting."
Still, German data probably won't shift the ECB's stance, said Nick Kounis, head of macro research at ABN Amro Bank NV in Amsterdam.
"It's clearly an upside surprise, quicker and stronger than expected," he said. "It's not enough to consider this the sort of sustained pickup in inflation the ECB is looking for."
— With assistance by Piotr Skolimowski, and Maria Tadeo
Before it's here, it's on the Bloomberg Terminal.
LEARN MORE