Congo Opposition Head Plans 2017 Vote Bid If Accord Holds
by
Moise Katumbi urges holding of elections by December 2017

Weekend pact with government hasn't been signed by president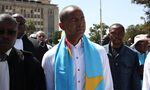 One of the Democratic Republic of Congo's main opposition politicians said he intends to run in elections if they take place this year as agreed to under a political deal designed to end the rule of President Joseph Kabila, who's yet to sign the accord.
Opposition leader Moise Katumbi urged the government, opposition parties and the international community to work together and organize elections in December 2017. "Everyone must accompany this agreement to ensure Congo has its first democratic transfer of power this year," Katumbi, who lives in self-imposed exile, said Monday in a phone interview.
The Dec. 31 agreement followed 10 days of negotiations after protests against the continued rule of Kabila, whose official final term heading Africa's biggest copper producer ended earlier last month. The accord was signed by members of Kabila's ruling alliance as well as leaders of the country's biggest opposition parties and stipulates that Kabila will step down after presidential, legislative and provincial elections in 2017.
The polls were due in November 2016 but postponed by the country's electoral commission, which cited financial and logistical constraints. Opposition leaders have previously accused Kabila, head of state since 2001, of intentionally delaying the vote in order to retain power and change the constitution. Protests against the possibility last year resulted in the deaths of more than 90 people.
Government spokesman Lambert Mende, who signed on behalf of Kabila's coalition, warned Monday that the agreement "does not resolve all of the problems" surrounding the delayed vote.
'Serious Problem'
There was still a "serious problem of inclusiveness," he said in a statement, referring to at least two groups of opposition politicians who have refused to sign the document. Kabila hasn't personally signed the agreement.
The government shouldn't be able to question the integrity of the accord, Katumbi said. "The agreement is done; it is signed," he said. Kabila signing "would resolve some questions, but it does not affect the fact that the agreement is still done."
The new agreement prevents Kabila from running for office again by changing the constitution, according to Katumbi. "There will be no more victims of the third term," he said.
Meeting the new election timeline may be difficult. The national election commission, known by its French acronym, CENI, had previously said it needed at least 17 months to complete voter registration and hold the polls. Katumbi said CENI must now ensure that the vote takes place this year.
"CENI must remember that it works for the Congolese people," he said. "If it does anything else that will end badly."
Katumbi, who was sentenced in absentia in June to three years in prison on what he says were politically motivated charges, did not participate directly in the talks. An opposition request to annul the sentence and allow him to return had been a point of contention before Katumbi said he asked negotiators to abandon the demand so talks could progress. He said he will continue to negotiate for his return.
Before it's here, it's on the Bloomberg Terminal.
LEARN MORE