Biggest Economies Face $7.7 Trillion Bond Tab as Bull Run Fades
Anchalee Worrachate and Anooja Debnath
China's debt redemption seen surging 132 percent in 2017

Italy has highest debt repayments among euro-region peers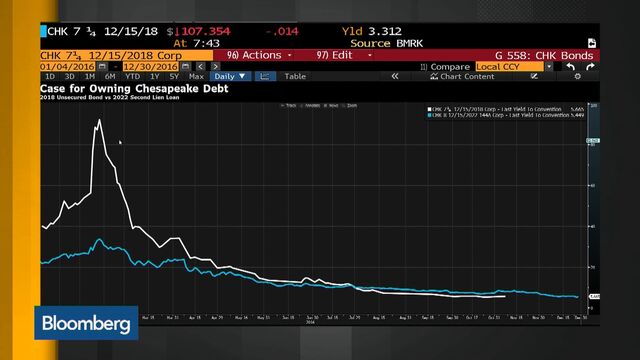 Governments of the world's leading economies have about $7.7 trillion of debt maturing in 2017, with most facing higher borrowing costs as a three-decade bull market for bonds shows signs of running out of steam.
The amount of sovereign bills, notes and bonds coming due for the Group-of-Seven nations plus Brazil, Russia, India and China will climb more than 8 percent from approximately $7 trillion in 2016, according to data compiled by Bloomberg. The first substantial increase since Bloomberg started collating the data in 2012 is led by China, where $588 billion of expected redemptions represents a 132 percent jump from 2016.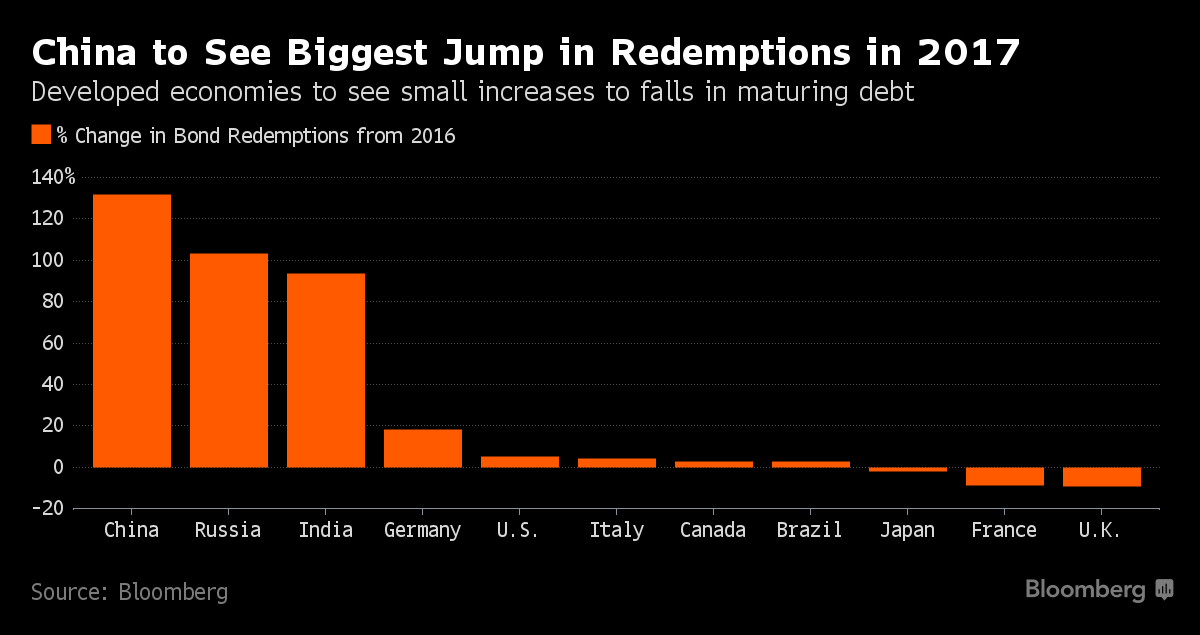 Money managers including Pioneer Investment Management Ltd. and Old Mutual Global Investors Ltd. said they are either bearish or less positive on government bonds as they expect U.S.-led reflation and fiscal expansion to gradually replace monetary policy as a growth driver and push up yields further.
"We do expect higher bond issuance in 2017 as a result of either direct fiscal stimulus or budget deficit slippage," said Cosimo Marasciulo, Dublin-based head of government bonds at Pioneer, which manages about $250 billion. "This increased bond supply will be a headwind for investors already facing a boost to economic activity and inflation from this increased fiscal spending. Bond valuations are already looking unattractive from a fundamental viewpoint. We think there are dark clouds on the fixed-income horizon."
While signs of economic growth and rising inflation expectations have driven up yields on longer-dated bonds, they are still close to record lows. Even as investors demand a higher premium to hold these securities, that may not deter governments from issuing more long-maturity debt this year, according to Commerzbank AG, one of the biggest primary dealers of German government bonds. Austria, Italy and Spain were among European countries which last year sold bonds with the longest maturities they have issued on record.
In developed economies, maturing debt will increase in the U.S., Italy, and Germany and fall in Japan, France and the U.K. The numbers do not take into account fresh budgetary needs.
"The drive to lock in the still low yields for as long as possible is still there," said David Schnautz, a London-based fixed-income strategist at Commerzbank. "If conditions permit, I would say debt agencies will go for, as an example, a 20-year bond versus a 16-year bond."
"We are very bearish bonds," said Mark Nash, head of fixed income at Old Mutual Global Investors in London. "It does feel like the train has left the station.
Global bonds posted their biggest quarterly decline on record in the final three months of 2016, according to Bloomberg Barclays World Bond Indexes, dropping more than 7 percent
Still, not everyone is bearish. "I'm extremely skeptical about the idea of a sustained upward break in inflation, growth and bond yields," said Steven Major, head of fixed-income research in London at HSBC Holdings Plc. Major stood out in 2014 for correctly predicting that Treasury 10-year yields would drop to about 2.1 percent by the end of the year, while the median forecast was 3.4 percent.

 
Following is a table of projected bond and bill redemptions and coupon payments for the G-7 industrialized nations and BRIC countries in 2017, using data compiled by Bloomberg as of Dec. 30 (in billions of dollars):
| | | | |
| --- | --- | --- | --- |
| | 2017 | % Change | Coupon |
| U.S. | 3,634 | 5 | 237 |
| Japan | 1,840 | -2 | 75 |
| China | 588 | 132 | 128 |
| Italy | 348 | 4 | 57 |
| France | 293 | -9 | 46 |
| Germany | 241 | 18 | 31 |
| U.K. | 219 | -9 | 55 |
| Canada | 189 | 3 | 13 |
| India | 184 | 94 | 58 |
| Brazil | 133 | 3 | 60 |
| Russia | 16 | 103 | 12 |
 
 
To contact the reporter on this story:
Anchalee Worrachate in London at aworrachate@bloomberg.net
To contact the editor responsible for this story:
David Goodman at dgoodman28@bloomberg.net
Before it's here, it's on the Bloomberg Terminal.
LEARN MORE