Israeli Police Question Netanyahu Over Graft Suspicions
By and
Police team spends three hours at prime minister's residence

Case involves allegations that he received illegal gifts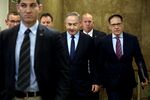 Israeli police questioned Prime Minister Benjamin Netanyahu at his official residence in Jerusalem over graft allegations that are casting a pall over his leadership.
The Justice Ministry said the team of investigators questioned the 67-year-old Israeli premier for about three hours Monday night "under caution" -- meaning anything he said could be used in court if he's prosecuted -- on suspicion he illicitly received perks from businesspeople. The prime minister said in a Twitter post Tuesday that "long years of daily persecution against me and my family turned out yesterday to be nothing -- nothing at all. I repeat: There will be nothing, because there is nothing."
Attorney General Avichai Mandelblit ordered a probe last June after police received information involving the prime minister. The investigation, which included testimony from dozens of witnesses in Israel and abroad, expanded beyond its initial scope, the ministry said, without detailing the suspicions.
Adds Pressure
The investigation adds to pressure on Netanyahu as he grapples with fallout from a recent United Nations Security Council resolution condemning Israeli settlements. Whether it will lead to charges, and whether they would be grave enough to threaten his premiership, isn't clear. 
Netanyahu will be questioned again Friday morning, Channel 2 news reported Tuesday evening. Netanyahu's attorney, Jacob Weinroth, told the station Netanyahu can be "very relaxed" as the allegations will prove to be nothing.
So far, Netanyahu isn't facing calls within his government to step down, and some allies have accused investigators of a political witch hunt. Under Israeli law, he doesn't have to step down unless indicted.
While offering no details of the suspicions against Netanyahu, Mandelblit gave an accounting of other inquiries against Netanyahu that have been dropped due to lack of evidence. These include allegations of campaign improprieties and other claims that he received gifts and flights from foreign businesspeople and double-billed for trips.
Absent an indictment, the effect a criminal investigation has on a prime minister depends on how strong he is politically and personally, said Abraham Diskin, professor emeritus of political science at the Hebrew University of Jerusalem. On both counts, he said, Netanyahu remains very strong.
"I don't see a collapse of the government or a Netanyahu resignation around the corner," Diskin said. "On a personal level, Netanyahu is a very strong person and his reactions so far demonstrate he's not going to back down. On a legal level, there's a lot we simply still don't know, and we have to wait and see."
Favored Leader
While Netanyahu's Likud party has suffered in recent opinion polls, Israelis continue to favor him as prime minister.
Israeli media have reported that there are two cases being investigated, one involving gifts from businesspeople and another whose details haven't been released. Billionaire Ronald S. Lauder was among those questioned but is not the subject of the investigation, his lawyer, Helena Beilin, was cited by media as saying.
This is not the first time Netanyahu has been entangled in a criminal investigation. The four-time prime minister was questioned during his first term in connection with the appointment of an attorney general who resigned a day later amid questions about his qualifications. There was suspicion that the appointment was a trade-off for political support on West Bank concessions, but the case was closed and no charges were brought against Netanyahu.
Guy Flanter, a former state prosecutor and an attorney specializing in criminal, military and disciplinary law, said the language being used so far, such as receiving benefits, is vague and does not rise to the level of a criminal offense as described in the law.
Moving Cautiously
Still, Mandelblit has been proceeding slowly to avoid harming Netanyahu's reputation unnecessarily, so the fact that the current probe has advanced to a criminal investigation could mean it's serious, Flanter said. 
"It may develop into allegations of obtaining bribes, and it may develop into nothing at all," he said. "Experience shows that this could take quite a long time."
Allegations of financial impropriety have dogged Netanyahu throughout his career, including misuse of public funds and illicit gift-taking, but he has denied all wrongdoing and has never been charged. Last year, convicted French tycoon Arnaud Mimran claimed he made campaign donations far above the legal limits to Netanyahu, an allegation the prime minister denied.
His conduct also has come under fire in a government deal to buy German submarines, because his personal lawyer and cousin represents the shipyard's Israeli agent. Both Netanyahu and attorney David Shimron have denied wrongdoing.
Netanyahu's predecessor, Ehud Olmert, is in jail after being convicted of bribery and obstruction of justice, the first Israeli prime minister to be put behind bars.
On Monday, Justice Minister Ayelet Shaked said she would consider legislation that would shield a sitting prime minister from some types of criminal investigation, but as part of a bigger package strengthening governance, the Haaretz newspaper reported. A lawmaker from Netanyahu's Likud party, David Amsalem, submitted such a bill Monday, saying successive prime ministers have been preoccupied with investigations, hurting governance. His aide, Yafit Yona, said the bill wouldn't apply retroactively and couldn't protect Netanyahu in this case.
Before it's here, it's on the Bloomberg Terminal.
LEARN MORE