Brazil's New Mayors Put On a Show to Sell Austerity
By
"Spending is prohibited," says Rio's mayor, Marcelo Crivella

Leaders warn of tough months ahead as recovery stalls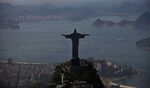 Brazil's mayors on their first day at work tried their best to put a positive spin on what was essentially a dismal message -- the need for further belt tightening amid the country's worst recession on record.
In Sao Paulo, Joao Doria dressed as one of the city's street sweepers early on Monday morning in his first public act as the new mayor, following a pledge to maximize resources. In Rio de Janeiro, Marcelo Crivella donated blood at a public hospital and promised to chase up private health-care providers for not paying taxes.
In his swearing-in ceremony on Sunday, Rio's new mayor was blunt about the need to cut
costs. "The order is the following: spending is prohibited," he said. "The country is in crisis. Rio de Janeiro is in crisis."
Thousands of mayors and city councilors were sworn into office across Brazil on New Year's Day, following elections in October. Many of the new leaders of the country's major cities used their inauguration ceremonies to warn residents of the need to tighten belts in the year ahead. In Porto Alegre the new government gave notice of possible delays to public servants' salaries, while the leader of Curitiba vowed to cut back the number of city hall jobs by 40 percent.
Brazil's cash-strapped municipalities received a minor respite last week, when the treasury confirmed it would transfer 4.5 billion reais ($1.4 billion) to cities' coffers. The money comes from an amnesty program for undeclared assets held overseas.