Big Stars, Bigger Money Fail to Revive China's Box-Office Boom
Bloomberg News
Revenue growth slowest in eight years as audiences get pickier

Jackie Chan, Matt Damon, Zhang Yimou didn't pack them in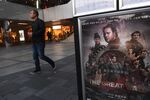 Superstars Jackie Chan and Matt Damon, along with the most expensive movie ever made in China, were not enough to revive growth in the country's box-office sales, which slowed last year to the weakest pace since at least 2008.
Growth for 2016 slowed to 3.7 percent after ticket receipts in December fell 3.9 percent to 4.06 billion yuan ($585 million), according to data from the government and industry consultancy Ent Group. Revenue rose 35 percent a year on average between 2011 and last year.
After tickets sales fell for a third straight month in November, the December debuts of "The Great Wall," the $150 million Chinese-American co-production featuring Damon and a raft of top local action stars, Chan's "The Railroad Tigers" and Hong Kong director Wong Kar-wai's "See You Tomorrow" loomed as potential blockbusters to rescue a worsening year. Instead, the films underwhelmed critics and fans, underscoring the rising selectivity of China's movie-goers.
"Films such as 'The Great Wall' and 'See You Tomorrow' didn't stand out," Johnson Hu, an analyst at UOB Kay-Hian, said by phone last week. "This shows prominent directors are no longer the box-office guarantee, underscoring the unpredictability of this market."
"Great Wall" had a very wide distribution and was directed by Zhang Yimou, one of China's most successful filmmakers, pumping up expectations for a big hit.

The box-office doldrums dragged down shares of exhibitors as well. Wanda Cinema Line Co. slid 55 percent in 2016, compared with a 30 percent slump for IMAX China Holding Inc. and a 23 percent dive for SMI Holdings Group Ltd.
The current quarter offers a steep challenge because films will be up against the previous year's hit in the period, "The Mermaid," the highest-grossing movie ever in China.
The three months starting in April might fare better with installments of Hollywood franchise films including "Fast & Furious," "Transformers," and "Pirates of the Caribbean," due for release, according to Richard Huang, an analyst at Nomura Holdings Inc.
— With assistance by Jing Yang De Morel
Before it's here, it's on the Bloomberg Terminal.
LEARN MORE