Big Business Groups Call on U.K. to Take Industry's Brexit Input
By
Trade bodies including CBI, IoD pen letter in Sunday Telegraph

Business's input is 'critical' to success of talks, they say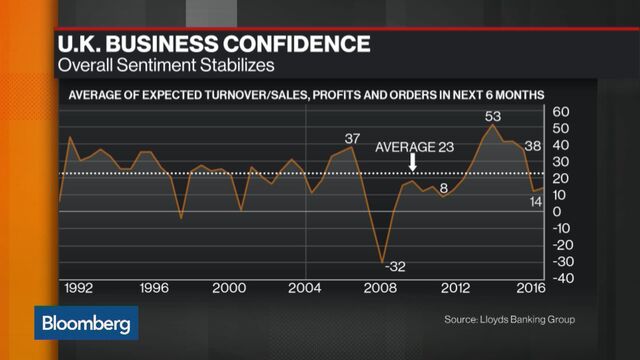 The heads of five of Britain's biggest trade bodies urged the U.K. to draw on industry's experience as the government negotiates the extent to which the nation is left out of Europe's single market.
Input from companies is "critical" to the success of Brexit negotiations and the government's new industrial strategy, the heads of the Confederation of British Industry, British Chambers of Commerce, Institute of Directors, the manufacturers' group EEF and Federation of Small Businesses wrote in a letter to the Sunday Telegraph. Companies need to be willing to engage in "open and honest dialogue" as well, according to the letter.
"Government must enter negotiations with the evidence it needs to understand the implications of the decisions and trade offs that lie ahead," the groups wrote in the letter, posted on the CBI website. "This evidence must be drawn from the on-the-ground experience of small, medium and large enterprises."
Prime Minister Theresa May has come under fire, including from within her own Conservative Party, for keeping her plans too closely guarded amid fears that the U.K. doesn't have the resources in place to deal with the mammoth task of exiting the European Union. The letter was published after a slew of protests against May's Brexit approach, most recently from the labor union that represents Britain's civil servants.
May has said she will formally trigger two years of Brexit negotiations by the end of March, but without clarifying whether that means a U.K. departure from the single market and customs unions. That leaves open the prospect of tariffs being imposed on goods and services flowing between Britain and the bloc.
In a New Year's message, May pledged to consider the interests of both the 52 percent of voters who backed Brexit and the 48 percent who opposed it when she negotiates with her 27 EU counterparts. Polls show few Britons have changed their minds since the June referendum.
Before it's here, it's on the Bloomberg Terminal.
LEARN MORE