Turkish Lawmakers Back Bill Giving Erdogan Executive Powers
By and
Bill creates presidential system in line with Erdogan demands

Ruling party doesn't have support needed for referendum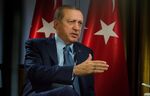 A Turkish parliamentary committee approved a proposed government bill that would grant sweeping executive powers to President Recep Tayyip Erdogan.
The bill, which must be debated and voted on in the full parliament, empowers the president to issue decrees, as well as appoint and discharge vice presidents, ministers and top government officials, the state-run Anadolu Agency reported Friday. Under the proposal, the president would for the first time be allowed to have ties to a political party, it said.
Erdogan has pushed for a powerful presidency since assuming the office, which he says would speed up decision-making at a time of increasing threats to the state, including attacks by separatist Kurdish militants and Islamic State. Yet the ruling Islamist-rooted AK Party, founded by Erdogan, doesn't have enough votes in parliament to force a decision on the presidential system to be put to a public referendum.
While its two biggest rivals in parliament have fiercely opposed the plan, Erdogan has support from the Nationalist Movement Party, the fourth-largest party whose leader Devlet Bahceli agreed to back it in the wake of a failed coup attempt in July.
"The presidential system will be the 'golden shot' in 2017 by helping create a strong and stable administrative structure," Deputy Prime Minister Nurettin Canikli said in Ankara on Friday.
The bill, which may come up for a vote early next year, needs at least 330 votes in the 550-seat parliament to go to a referendum. The plebiscite must take place within 60 days of the vote in the parliament.
Read more: The Chaos Candidate: Attacks Aid Erdogan Case for Strongman Rule
The proposed change also gives the president decision-making powers over foreign trade and taxation, Anadolu agency said, without elaborating. The bill expands the powers of the presidency state inspection board to cover the military, it said, while the number of top judges sitting on the constitutional court would be reduced to 15 from 17.
The president would be able to declare a state of emergency for as long as six months, Anadolu said. The number of seats in parliament would increase to 600 with an absolute parliamentary majority needed to begin a probe against the president, it said.
The new law allows the president to directly appoint four of the 13-member Supreme Board of Judges and Prosecutors, with the remaining seven members to be appointed by parliament. Elections would be held every five years, instead of four, on the same day as the presidential election.
Turkey is scheduled to hold its next parliamentary and presidential elections on Nov. 3, 2019.
The ruling party is seeking to install "a one-man regime and dictatorship," a group of lawmakers from the secular opposition party CHP said in a statement released in Istanbul on Friday. "The lawmakers will be stripped of their power and the judiciary will be a tool in the hands of one man."
Before it's here, it's on the Bloomberg Terminal.
LEARN MORE