Treasuries Rally on Month-End Buying, Paring December Losses
By and
Yields fall to session lows as holiday-shortened session ends

Trump win, Fed hike pushed U.S. rates higher to end 2016
Treasuries rallied on the final trading day of 2016 on demand tied to month-end index changes, paring their December losses.
The Bloomberg Barclays U.S. Treasury index fell 0.33 percent through Dec. 29 after four straight monthly declines. It lost 2.67 percent in November, the most since January 2009, as Donald Trump's win in the U.S. presidential election fueled bets that inflation and economic growth would accelerate. The index hasn't fallen for five straight months since October 2010-March 2011.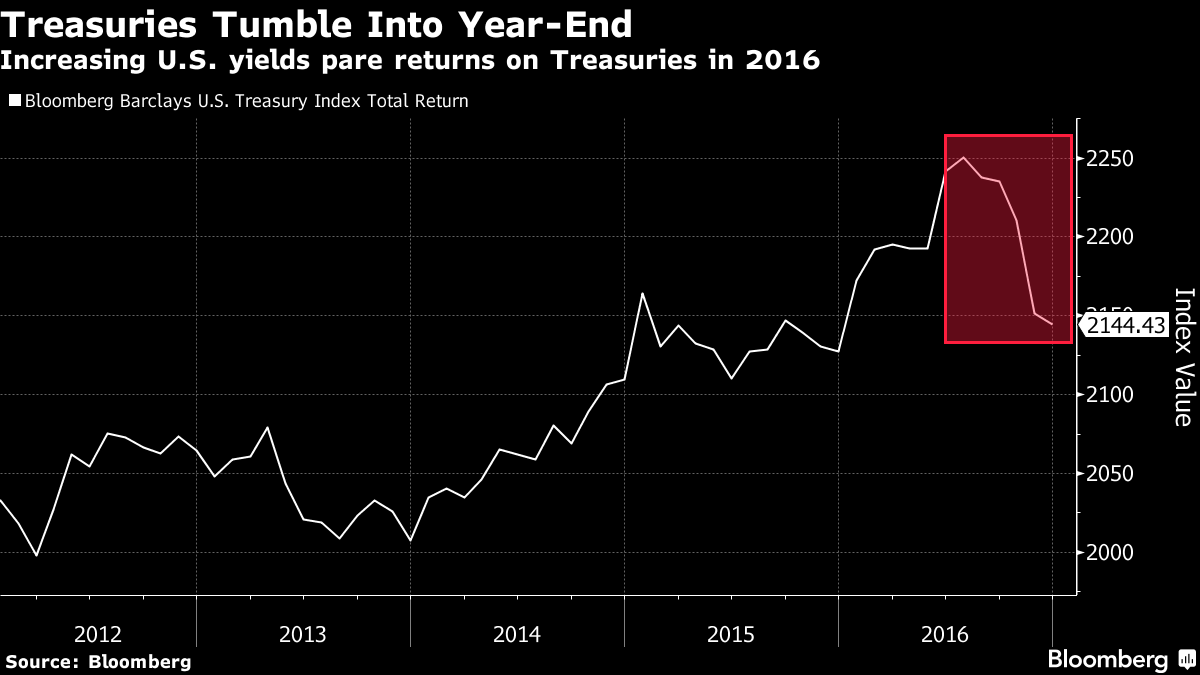 Treasuries rallied across the curve ahead of the 1pm ET futures market close, when Bloomberg Barclays USD-denominated bond index rebalancing, normally at 3pm ET on the last business day of the month, took effect; a +0.07yr duration extension was estimated for Bloomberg Barclays Treasury Index
Yields across the curve were lower by 1-3 basis points, off session lows, after the Sifma-recommended 2pm ET close for USD-denominated cash fixed income
The 10-year yield fell as much as 4.5 basis points to 2.43%, lowest since Dec. 14; it touched 2.639% on Dec. 15, the highest level since 2014, as U.S. equity benchmarks reached record highs
Treasuries also were underpinned by declines for U.S. equities that accelerated after Dec. Chicago PMI fell more than expected
Traders' early focus was on the extent to which month-end needs were satisfied by this week's Treasury auctions; strong demand for yesterday's 7-year auction and 5-year auction on Dec. 28 was attributed in part to the incentive to use auction liquidity to add duration rather than relying on thinly staffed trading desks today
Most European sovereign debt markets closed lower, led by French bonds after long-duration bond auctions were set for Jan. 5; French 5s30s curve steepened by 7.8 basis points
U.S. 5s30s stabilized after trading above 113.5 basis points, a zone that contains the 23.6% retracement of its flattening from post-election high on Nov. 9 and the 38.2% retracement of flattening from Dec. 9 highs reached amid EGB curve steepening
The Treasury index still had a positive yearly total return of 0.82 percent through Dec. 29 as the surge in yields during 4Q failed to completely erase the gains of 1H as U.K. Brexit vote sent yields to YTD lows
Before it's here, it's on the Bloomberg Terminal.
LEARN MORE