Eleventh Hour Stock and Bond Reversals Fire Up Rebalancing Talk
By
S&P 500 has slipped over past week as Treasuries have rallied

Shift for a U.S. stock market that's gained 5% since election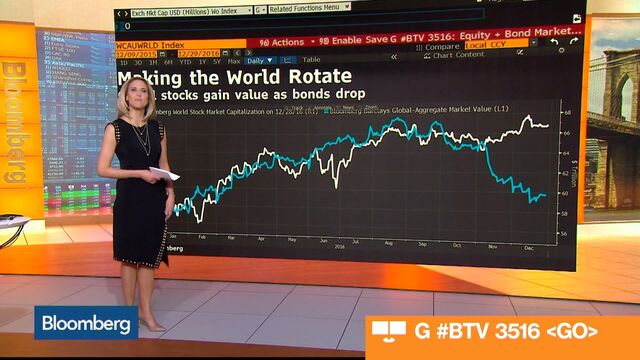 The U.S. stock market's torrid rally since Election Day may be its own worst enemy as year-end approaches, renewing focus on a theory that giant funds cause reversals as they buy losers and sell winners to keep weights in check. 
After climbing 3 percent to start December, the S&P 500 Index has since slipped 0.6 percent. Ten-year Treasuries have climbed almost half a percent after declining 1.5 percent to start the month.

Rebalancing is cited in other assets like currencies:
After climbing 1.5% in the first three weeks of December, the Bloomberg Dollar Spot Index fell the most in two weeks on Thursday to turn negative for the week
Falling Treasury yields as a result of rebalancing are also weighing on greenback
Here's what an assortment of pros have to say about it:
"What we saw yesterday was large buying of Treasury needs in the auction, and selling of equity futures about the same time. Expect more of that today" -- Andrew Brenner, head of international fixed income for National Alliance Capital Markets
"We could see 10-year Treasury yields stabilize as pension fund rebalancing allocates more towards bonds, and as buyers find the yield increasingly attractive" -- Quincy Krosby, a market strategist at Prudential Financial Inc.
"Yesterday equities slid as the pension fund rebal and light volumes took hold -- it was the worst day for the S&P 500 since Oct. 11" -- Yousef Abbasi, a global market strategist at JonesTrading Institutional Services LLC
"We estimate $38bn of U.S. equity sales, $22bn of U.S. bond buying and $6.3bn of EM equity buying, making for one of the largest pension allocations out of equities on record. Pension funds who use threshold-based rebalancing could also be nearing trigger levels" -- Credit Suisse client note, Dec. 22
Some additional statistics that highlight the reversal:
Financial and energy shares that led the S&P 500 higher over the first three weeks of December, gaining more than 3.3%, have slipped at least 0.6 percent since
After absorbing more than $14 billion through Dec. 22, the SPDR S&P 500 ETF has seen $1.3 billion of outflows in the past week
— With assistance by Oliver Renick
Before it's here, it's on the Bloomberg Terminal.
LEARN MORE