Egypt Cabinet Approves Saudi Border Pact as Court Ruling Nears
By and
Government refers the agreement to parliament for approval

Pact includes the transfer of two Red Sea islands to kingdom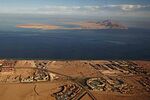 Egypt's government approved a maritime border deal that transfers two Red Sea islands to Saudi Arabia and triggered the largest protests during President Abdel-Fattah El-Sisi's rule.
The cabinet on Thursday referred the agreement, which is currently being disputed in Egyptian courts, to parliament for approval, according to an e-mailed statement. It was unclear whether the legislature would consider the matter before an expected court ruling on Jan. 16.
The deal was struck at the tail-end of a visit to Cairo in April by Saudi King Salman bin Abdulaziz, during which he also pledged billions of dollars in investments and aid to Egypt. El-Sisi said Egypt was returning two islands, known as Tiran and Sanafir, that belonged to Saudi Arabia "by right."
Critics argued the deal amounted to trading Egyptian territory for Saudi funds, and sought to block it through lawsuits. An Egyptian administrative appellate court is expected to issue a final ruling next month after a lower court nullified the pact. Dozens of political groups and youth organizations united behind an "Egypt not for sale" movement, resulting in demonstrations in mid-April attended by thousands of people.
The delay in approving the deal comes amid signs of strained ties with Saudi Arabia. Among them, Saudi Aramco has withheld fuel shipments for around three months, forcing Egypt to seek alternate suppliers.
Before it's here, it's on the Bloomberg Terminal.
LEARN MORE