China Stock Investors Have Had Enough of 2016 as Turnover Wanes
Bloomberg News
China stock turnover about 34% less than year's daily average

Money-market squeeze is adding to concerns over falling yuan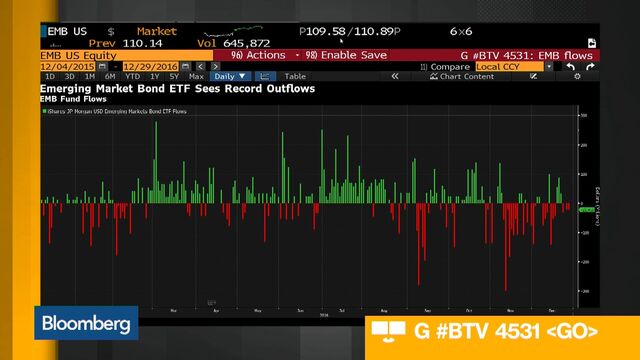 Investors in Chinese stocks, which are among the world's biggest losers in 2016, have had just about all they can stomach.
About 340 billion yuan ($49 billion) of shares changed hands in Shanghai and Shenzhen in Thursday trading, some 34% less than the daily average for this year. The Shanghai Composite Index fell 0.2 percent to 3096.10 at the close. Citic Heavy Industries Co. and BlueFocus Communication Group Co. surged by the daily limit, while PetroChina Co. dropped 1 percent. The Hang Seng Index was little changed in Hong Kong after rallying the most in a month on Wednesday.
China's benchmark equity gauge is among the world's biggest decliners in December as surging funding costs spurred a record selloff in the nation's debt and investors sought alternatives to yuan-denominated assets. That's rounding out a dismal year for the $6.5 trillion stock market, the second largest after the U.S., with the Shanghai Composite down 12 percent. One of the few bright spots of late have been industrial companies, which have been boosted by spending goals for 2017.
"Stocks are facing pressure in the short-term due to liquidity tightness and a general cautious sentiment in financial markets following the bond market slump," said Wang Chen, a partner at Xufunds Investment Management Co. in Shanghai. "This will probably last till the Chinese New Year holidays at the end of January."

Foreign investors have turned net sellers on Shanghai shares through an exchange link with Hong Kong, offloading 785 million yuan ($113 million) on Wednesday. Mainland funds piled into Hong Kong stocks on the same day, snapping up 4.5 billion yuan, the most since Nov. 9, exchange data show. The yuan has tumbled to an 8 1/2-year low versus the greenback, against which the Hong Kong dollar is pegged.
China's money-market liquidity squeeze is likely to get worse. The benchmark seven-day repurchase rate will average 2.65 percent in the first quarter, up from 2.46 percent in the current period and the highest since the start of 2015, according to the median estimate in a Bloomberg News survey of 24 bond traders, investors and analysts.
Citic Heavy rose 10%, paring its decline this year to 15%
BlueFocus Communication rose 10% after forecasting 2016 net income that beat analyst estimates
PetroChina Co. fell for the fourth time in five days in Shanghai trading but remains up more than 4% in December as oil climbed to an 18-month high