China-Japan Tensions Simmer Weeks Before Trump Takes Office
By
Abe defense minister visits controversial war shrine in Tokyo

China slams Japan over name change of de facto Taipei embassy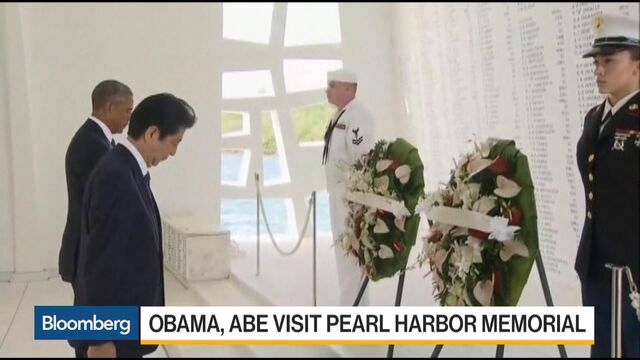 Tensions in North Asia are again heating up with less than a month to go before U.S. President-elect Donald Trump takes office.
A day after joining Prime Minister Shinzo Abe on a bridge-building trip to Pearl Harbor, Japanese Defense Minister Tomomi Inada on Thursday visited a Tokyo shrine seen by China and South Korea in particular as a symbol of her nation's wartime atrocities. Separately, Japan drew a rebuke from China on Wednesday after adding the name Taiwan to its de facto embassy in Taipei.

Recent developments will "increase China's suspicions toward Japan, toward the United States and toward Taiwan," said Arthur Ding, director of the Institute of International Relations in Taipei. "China is quite worried these days because Taiwan has formed kind of a coalition with Japan, with Abe, with Donald Trump against China."
The symbolic moves ahead of Trump's inauguration on Jan. 20 add to signals that tensions between some of Asia's biggest economies -- and trading partners -- are set to rise in 2017. A history of war and territorial disputes in the region hinder increased economic ties and fuel a rise in defense spending.
Last week Japan approved a fifth straight rise in its annual military budget in the face of a more assertive China. Japan's military said Sunday it spotted a Chinese aircraft carrier sailing into the Western Pacific near Okinawa, and last week a Japanese government agency said Chinese universities and think tanks were forming ties with Okinawan independence groups.
Taiwan Policy
On Wednesday, China criticized Japan's decision to add the word Taiwan to the name of its de facto embassy in Taipei. Friction over the self-governed island has escalated after Trump accepted a phone call earlier this month from Taiwanese President Tsai Ing-wen and indicated he could be willing to reconsider his country's stance on the One-China policy.

Chinese Foreign Ministry spokeswoman Hua Chunying said Wednesday that Beijing is "strongly unhappy with Japan's negative moves concerning the Taiwan issue." A statement on the ministry's website urged Japan to "stick to the One-China principle, properly deal with Taiwan-related issues, and refrain from sending wrong signals to the Taiwan administration and the international community or causing new disruptions to China-Japan relations."
Many countries including Japan do not formally recognize Taiwan as an independent nation, a condition of maintaining diplomatic ties with Beijing. Relations between Taipei and Beijing have soured since Tsai took office in May as she has declined to endorse the One-China framework, a long-standing acknowledgment that the two are part of the same China, even if they disagree on what that means. China considers Taiwan a breakaway province.
War Criminals
Visits to the Yasukuni Shrine also regularly disturb relations. The place of worship honors millions of Japanese war dead, including 14 wartime leaders convicted as Class-A war criminals.
At a briefing in Beijing on Thursday, China Defense Ministry spokesman Yang Yujun expresses "strong discontent and objection" over Inada's visit. South Korea's defense ministry said the move "embellishes" Japan's aggression in the past and its colonization of Korea.
Inada played down criticism that her action would antagonize Japan's neighbors.
"I offered prayers with the wish to firmly build peace for Japan and the world from a future-oriented perspective," Inada told reporters. "I expressed my gratitude, respect and mourned for those who gave their lives for their country. I think people in any country can understand that."
Abe himself has kept away from the shrine since a December 2013 visit led to a deterioration in relations with China and South Korea and prompted a rebuke from the U.S.
Looking ahead, 2017 may hold more challenges than opportunities for the geopolitical environment in Northeast Asia, according to Liu Jiangyong, professor of international relations at Tsinghua University in Beijing who specializes in Japan studies.
"Amid uncertainty from the incoming U.S. presidency, Japan, and also Taiwan, would tend to capitalize on a potentially more confrontational US-China ties in order to maximize their own interests," Liu said. "The regional situation largely boils down to how Trump makes his choices."
Before it's here, it's on the Bloomberg Terminal.
LEARN MORE