Your Evening Briefing
Here are today's top stories.
Bloomberg News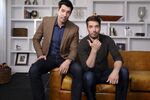 Want to receive this post in your inbox every afternoon? Sign up here.
In a sea of stressful 24/7 cable news, HGTV is a tiny island of escapism. Even if your top passions in life don't include house-flipping, what reasonable human can't marvel at "Fixer Upper" or take delight in "Property Brothers"?
While much of HGTV's audience is in the southeastern U.S., its shows have a wide appeal. This year, the network placed ahead of CNN, and its parent company, Scripps Networks Interactive, outperformed bigger rivals like Disney, 21st Century Fox and Viacom. It'll almost make you forget about the rest of 2016… at least for 45 minutes or so. —Megan Hess
Trump blamed Obama for transition "roadblocks." Donald Trump accused President Obama of hobbling the transition by unspecified "inflammatory" statements and "roadblocks," as tensions between the two men spilled into the open less than a month before Inauguration Day. The president-elect had met with Obama shortly after the election and praised his character while promising to retain some initiatives, including portions of Obamacare.
HGTV, a refuge from the stress of cable news, won big. Taylor Swift shared her love for HGTV's "Fixer Upper" on Instagram. Hillary Clinton said "Beachfront Bargain Hunt" was "relaxing, entertaining and informative." The escapist appeal of looking at other people's beautiful homes turned HGTV into the third most-watched cable network in 2016, ahead of CNN and behind only Fox News and ESPN.
The world's wealthiest people made $237 billion this year. In a year when populist voters reshaped power and politics across Europe and the U.S., the biggest fortunes on the planet whipsawed through $4.8 trillion of daily net worth gains and losses during the year. The gains were led by Warren Buffett, who added $11.8 billion in 2016, according to the Bloomberg Billionaires Index.
Buy me some peanuts and eye scanners… Attending a baseball game used to be a low-tech pleasure. Now, companies have begun offering biometric and other tools to create the equivalent of express security lanes like those in airports. Those fingerprints and iris scans also allow teams to track fans' behavior and purchasing habits, helping them rake in more revenue.
Pharma's pricing troubles will get worse in 2017. The only real pricing pressure in the U.S. this year has come from the private sector, Max Nisen writes for Bloomberg Gadfly. This phenomenon is unlikely to stay quiet much longer, as this pressure has mounting and negative impacts on some of the biggest companies and drugs in the industry.
Saying goodbye to newsmakers in business, finance and public affairs. The world of business lost Roger Enrico, who led PepsiCo in its battle against Coca-Cola; the world of finance lost Thomas Perkins, the venture capitalist who helped finance Amazon and Google; the world of government lost Shimon Peres, Israel's former president and prime minister. Those are just some of the year's notable deaths.
Body scanning has become the latest health club must-have. Fitness gurus have long complained that the public's focus on weight is counterproductive. Muscle weighs more than fat, after all. But it's hard to be objective when the scale is creaking underfoot. Enter the body scanner, which allows you to visualize muscle gain and see, in 3D, how and where you're losing fat.
Before it's here, it's on the Bloomberg Terminal.
LEARN MORE