markets
Shorts Pick Wrong Time to Forget Toshiba Shares, Down 40%
By and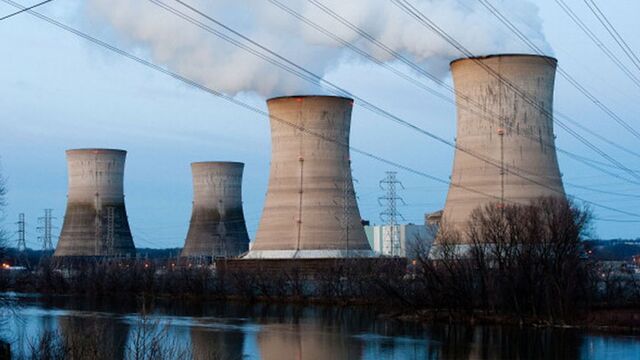 They weren't wrong. They were just early.
So it goes for bears on Toshiba Corp., who've spent the last seven months covering short sales on the electronics maker after pushing them to a decade high in May. Bets against the stock hit the lowest level of the year this week, just in time for it to plummet more than 40 percent in three days on word of a writedown at its U.S. nuclear services unit.
Now credit swaps are surging as rating agencies downgrade their outlook on the company. The year-to-date gain in the shares went from 79 percent as of Christmas to 3.5 percent Thursday.

"This was a good year for Toshiba shares, with the company revising up earnings forecasts for its solid flash-memory chip business," said Tomoichiro Kubota, a senior analyst at Matsui Securities Co. in Tokyo.
Toshiba was among the three best-performing companies in the Nikkei 225 Stock Average for 2016. The stock was down 17 percent on Thursday, following a 20 percent dip to 311.6 yen on Wednesday.

"Short selling has been surging on the stock since Tuesday," Kubota said. "Considering the stock used to trade with the 100-yen range in January, it's still kind of expensive."
The cost to insure Toshiba's bonds went as high as 440 basis points Wednesday, up 295 basis points from the previous day, according to a credit trader, who asked not to be identified. That puts the contracts on track for a record jump, based on figures going back to 2004, from data provider CMA. Toshiba's market capitalization is now about the same as Sharp Corp.

Toshiba had high hopes for its nuclear business, which accounts for roughly a third of the company's revenue, when it acquired U.S. based Westinghouse Electric. Toshiba counts Westinghouse as its biggest nuclear acquisition deal in at least a decade.

Toshiba's nuclear business took a hit in 2011 in the wake of the Fukushima disaster and has failed to get back on track since.

— With assistance by Stephen Stapczynski, Anna Kitanaka, and Takashi Amano
(
Updates to reflect latest stock price moves in third and fifth paragraphs.
)
Before it's here, it's on the Bloomberg Terminal.
LEARN MORE