Israel Declassifies Papers on Children Missing Since 1950s
By
Yemenite families still think children were illegally adopted

Minister says DNA bank to be set up to provide more clues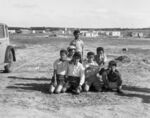 Israeli Prime Minister Benjamin Netanyahu pushed the button Wednesday on a website containing some 200,000 documents shedding light on nearly 1,000 missing children of Yemenite immigrants whose families believe they were illegally adopted decades ago.
With a simple search engine that allows families to look for members they were told had died in the hospital, the site is meant to provide closure for one of Israel's most haunting social traumas. Netanyahu said it came to "correct historic injustice."
"For a long time there has been an outcry of families saying that keeping the documents secret was a big mistake," Regional Cooperation Minister Tzachi Hanegbi, who headed the project, said on a conference call Wednesday. "I don't think there was an organized political effort to steal kids from their parents. But the fact is about 1,000 children disappeared with no grave, no reason for death, no funeral, no body."
Most of the missing children were members of new immigrant families from Yemen who arrived in the early years of Israeli statehood, between 1948 and 1954. Three government inquiries into the affair failed to find evidence that children were taken from their families and given up for adoption, as many families continue to believe.
'I Want My Daughter'
Yigal Yosef, mayor of the mostly Yemenite town of Rosh Ha'ayin, said he will search the website for information on his sister, who disappeared at six months old after being taken from her mother at an Israeli hospital. The family was told she died from an intestinal illness and was buried in a children's cemetery.
No burial plot number was ever given, however, and the family later received military draft notices for the girl. More recently, Yosef found that his sister remained registered at the Interior Ministry as living at an old family address and that the National Insurance Institute recently sent her a pension notice.
"What I remember as a child, I was the oldest, is my mother being thrown out of the hospital screaming 'I want my daughter,' " Yosef said on Army Radio. "Today I'm optimistic there's finally a recognition that something terrible and very painful happened here."
Papers released on the website include protocols and raw material collected by state commissions into the affair, as well as adoption files. Some details were blacked out for privacy reasons.
Hanegbi urged interested parties to take advantage of the website, and said there was a plan to open a DNA bank to provide further clarity.
"I'm not sure it will heal wounds, but at least it will remove distrust and suspicion that information is being hidden," Hanegbi said.
Before it's here, it's on the Bloomberg Terminal.
LEARN MORE