markets
Gold Shakes Off Trump Slump With Third Advance as Year-End Nears
By
Bullion prices head for best run of advances since November

Prices climbs even as global holdings in ETFs contract further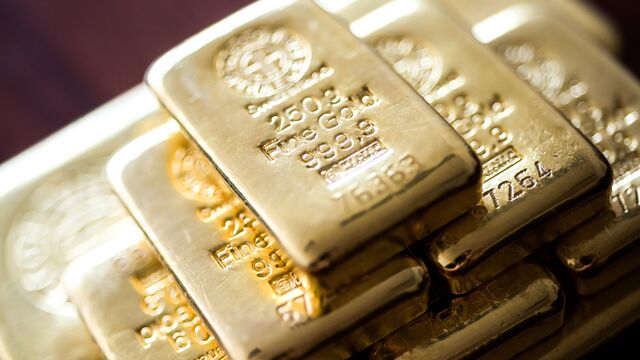 Gold may be emerging from its Trump slump as 2016 winds down. Prices rose for a third day to head for the longest run of gains since early November, the period just before the reality-television star seized the White House and kick-started a push for risk assets that's hurt prices.
Bullion for immediate delivery gained as much as 0.5 percent to $1,144.56 an ounce, and traded at $1,142.58 at 8:05 a.m. in London, according to Bloomberg generic pricing. After rising 0.5 percent on Tuesday, and 0.4 percent on Friday before the Christmas break, that's set the precious metal up for the best winning run since the period to Nov. 4.

Gold has been hammered by Donald Trump's win in November -- contrary to expectations that a victory for the real-estate mogul would support prices -- as investors took the view his policies may lift growth, and the Federal Reserve raised interest rates. Prices dropped for a seventh week last week as investors dumped holdings from exchange-traded funds and the dollar gained. Lackluster trading toward the end of the year may have aided the rebound this week, according to Jingyi Pan, a market strategist at IG Asia Pte.
"The year-end, thin market could have amplified price movements," Singapore-based Pan said in an e-mail as figures showed a further decline in global ETF holdings, and the U.S. currency held near the highest level in more than a decade. "I am seeing no strong underlying reason supporting the rise."
Commerzbank AG is among banks that have flagged potential support for bullion in 2017, which remains 7.7 percent higher this year even after sinking this quarter. Risks connected with the Trump presidency, and the U.K.'s talks to leave the European Union may boost gold, the bank said this month.
Miners' Shares
Gold's slump since the Republican candidate prevailed has hurt miners' shares, although losses have been pared. In Australia, Newcrest Mining Ltd. fell from above A$25 on Nov. 9 to a closing low of A$16.75 on Dec. 16. The stock rose 3 percent on Wednesday to A$18.62, gaining for a sixth day.
There are signs inflation is ticking higher, with price gains potentially supportive of bullion as a hedge. The U.S. consumer price index rose 1.7 percent last month as energy costs climbed, matching economists' expectations to post the biggest year-over-year advance since October 2014.
Still, investors continue to shed holdings in bullion-backed exchange-traded funds, with assets down 1.1 metric tons to 1,778 tons as of Tuesday, the lowest since May, according to data compiled by Bloomberg. That's the 32nd day the holdings shrank for the longest losing run since September 2004.
Global holdings have dropped as the Fed raised rates by a quarter-point on Dec. 14 for only the second hike since the central bank cut borrowing costs to near-zero in 2008. Policy makers have signaled three increases may be warranted in 2017, according to the latest quarterly projection.
The prospects of tighter policy, and an improving outlook for the global economy, will weigh on gold in 2017, according to Oversea-Chinese Banking Corp., the most accurate bullion forecaster tracked by Bloomberg in the third quarter. Bullion will drop to $1,100 in the final three months of next year, the bank's economist Barnabas Gan said this month.
Before it's here, it's on the Bloomberg Terminal.
LEARN MORE