markets
China Seen Dropping Trade Target for Second Year Amid Tensions
Bloomberg News
Commerce concluded gathering without setting goal, report says

Paper says officals backed away from 'obsession' with targets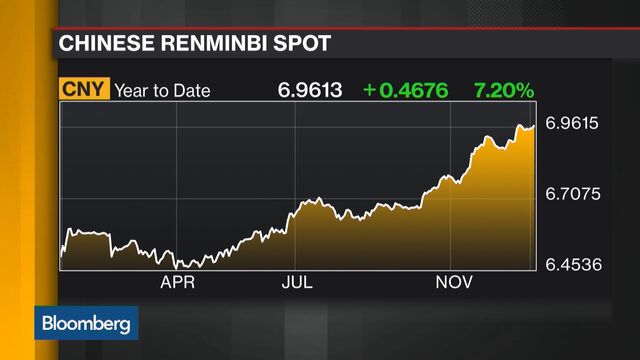 China is downplaying its trade growth target, suggesting leaders may elect not to announce one for a second year as it pushes for greater economic stability, state media reported.
The Ministry of Commerce concluded a key annual conference without setting a 2017 target, which suggests that top policy makers are backing away from an "obsession" with growth targets, the state-run Shanghai Securities News reported.
Doing so is more appropriate for conditions under the "new normal" than setting a specific target, said Li Guanghui, deputy director of the ministry's Chinese Academy of International Trade and Economic Cooperation, according to the paper, which is affiliated with the official Xinhua News Agency.
The focus on trade follows a pledge by top policy makers this month to curb risks and ensure stability next year. President Xi Jinping told top officials he's open to growth below the 6.5 percent economic growth target to 2020 if holding to it would carry too much risk, a person familiar with the situation told Bloomberg last week.
In March, China didn't announce a target for increasing trade in 2016 at the national legislature's opening session, a departure from tradition that underscored an increasing uncertainty over the global growth outlook.
The uncertain global environment makes it difficult to pre-determine trade prospects, according to the paper. It also cited Commerce Minister Gao Hucheng as telling the gathering that trade has stabilized this year, narrowing earlier declines.
Risks facing the world's biggest trading nation include uncertain policies from U.S. President-elect Donald Trump, who campaigned on slapping tariffs on Chinese goods. Beijing also complained to the World Trade Organization this month about U.S. and European Union practices.
— With assistance by Miao Han
Before it's here, it's on the Bloomberg Terminal.
LEARN MORE