business
Somalia Swears in New Lawmakers Ahead of Presidential Vote
By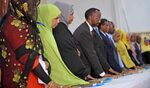 About 284 Somali lawmakers took their oath of office on Tuesday following elections that ushered in the nation's new parliament, according to Supreme Court Chairman Ibrahim Idle Saleban.
The members of parliament held their first session in the capital, Mogadishu, during which they picked Osman Elmi Boqorre as temporary speaker. Lawmakers will elect a permanent speaker to replace Mohamed Osman Jawarey, the former holder of the post, and also elect a new president.
The country, whose institutions have largely collapsed, doesn't select its leaders by popular vote because the electoral body doesn't have the capacity to conduct a nationwide poll. Under its electoral process, which began in October, electoral college members pick lawmakers who in turn will choose between President Hassan Sheikh Mohamoud and more than a dozen challengers.
Before it's here, it's on the Bloomberg Terminal.
LEARN MORE