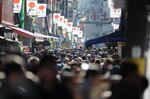 Shinzo Abe and Haruhiko Kuroda promised to drag Japan out of decades of deflation in 2013. That hasn't happened yet, with core inflation dropping in November for a ninth month. While prices rose more than 50 percent over the last two decades in the U.S., in Japan ...



That's not to say that the price of everything is unchanged or falling. 

In addition, 

Put these together and you have some idea why consumers have been so reluctant to spend in recent years.
Obviously, some things have fallen in price. 


The decline in the price of electronic goods is striking — and much of this may be to do with the adjustment of the data to account for the massive improvements in quality and performance of these products. Although actual store prices may not have changed much, a $1,000 computer today is many times more powerful than one that cost the same price 10 years ago, so its price in the CPI is adjusted downward. 
While the headline inflation number rose only 2.6 percent, there has been great variance in what happened with the components. TV and computers prices crashed, while the cost of having a baby rose and fresh food costs jumped. 


Before it's here, it's on the Bloomberg Terminal.
LEARN MORE