Your Evening Briefing
Here are today's top stories.
Bloomberg News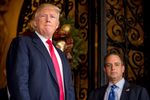 Want to receive this post in your inbox every afternoon? Sign up here.
Just because your office is deserted for the holidays doesn't mean all's quiet on the western front. Trump is still tweeting, and relations seem to be ever-warming between the president-elect and Vladimir Putin, even when they're one-upping each other on building more nuclear weapons.
Admittedly, these aren't the easiest topics to swallow at a dinner table packed with relatives of varying political stripes. But fear not! There's always drug price gouging and KGB ties to Trump's national security adviser to discuss. —Megan Hess
Donald Trump escalated his remarks about the U.S. nuclear arsenal on Friday, telling a TV host off-air that he isn't concerned about triggering an arms race with Russia or other adversaries, a day after a tweet that appeared to reset America's posture on atomic weapons.
A Trump aide partnered with a firm run by a man with alleged KGB ties. Donald Trump's national security adviser, Michael Flynn, collaborated this year with a controversial tech company co-run by Subu Kota. Kota, who pleaded guilty in 1996 to selling stolen biotech material to an FBI agent posing as a Russian spy, is one of two board directors at Boston-based Brainwave Science.
Martin Shkreli said "of course" he'd raise drug prices again. During an interview on Bloomberg TV on Friday, the former pharmaceutical exec said the national outrage over drug pricing was blown out of proportion and heightened by the U.S. election, though he conceded he could have predicted the blowback better. His company, Turing Pharmaceuticals, is among the companies under fire for price increases on older drugs that lack competition.
The Berlin truck attack suspect was killed by Italian police. The suspect in this week's Berlin terrorist attack, Anis Amri, fired on two officers near a Milan area train station at 3 a.m. after being stopped for an ID check, Italian police said. He was killed after officers returned fire.
Hiring an employee's friend is fueling a major workplace crisis. Almost everyone wins when it comes to referral hiring: The applicant is more likely to get the job, companies cut hiring costs, and the original employee who did the referring often gets a bonus. It's a nice, closed-loop system—that is, unless you don't have the right network to get the job. Referral hiring isn't great for diversity.
On Nov. 9, Hillary Clinton voters ate their grief. The morning after the 2016 vote, aggrieved Clinton supporters did what Americans do best: They ate. Apps like Lose It!, which helps users track their daily food intake, and Caviar, a meal-ordering app, have the data to back that up.
How to stop winter weather delays from ruining your travels. Winter came early this year, with storms already pounding much of the U.S. If they're threatening your holiday travel plans, there are still a few things you can do to make sure you get where you need to go—on time.

Before it's here, it's on the Bloomberg Terminal.
LEARN MORE