President Xi Open to Growth in China Falling Below 6.5%
Bloomberg News
Growth target questioned amid focus on deflating asset bubbles

Leaders said to agree economy can be stable with slower growth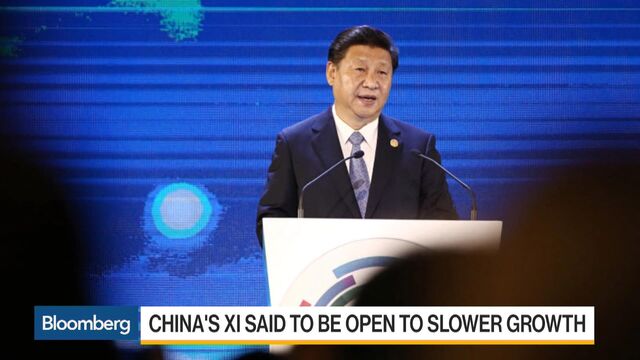 President Xi Jinping isn't wedded to China's 6.5 percent economic growth objective due to concerns about rising debt and an uncertain global environment after Donald Trump's election win in the U.S., according to a person familiar with the situation.
Xi told a meeting of the Communist Party's financial and economic leading group this week that China doesn't need to meet the objective if doing so creates too much risk, said the person, who asked not to be named because the discussions were private. Leaders at the gathering agreed that the $11 trillion economy would remain stable with slower growth as long as employment stays firm, the person said.
Below-target growth would be in line with analyst projections that the expansion will keep decelerating in coming years from an estimated pace of 6.7 percent in 2016. The slowdown coincides with the nation's broad shift from an export-led economy to services, which accounted for more than half of growth last year for the first time, and domestic consumption.
Last year, policy makers pledged an annual growth rate of at least 6.5 percent for five years through 2020. Some economists criticize the growth objective for motivating officials to take risks that may jeopardize financial stability. The International Monetary Fund is among those that have recommended a lower target.
The shift signals that leaders see systemic risk as great enough to warrant re-evaluating key goals and may be less inclined to add to fiscal and monetary stimulus. Xi consolidated his power in October, ahead of a twice-a-decade leadership reshuffle next year, with the party naming him its "core."
"This is a sign of positive change," said Yao Wei, chief China economist at Societe Generale SA in Paris. "The arbitrary growth target of 6.5 percent has become not only an impediment to the necessary structural adjustments but also a culprit for rapidly rising debt risk."
Debt Levels
Some meeting participants sounded the alarm about unsustainable debt, noting that other nations have experienced crises after borrowing climbed to around 300 percent of GDP, the person said. China's debt-to-GDP ratio rose to about 270 percent this year, the person said. The source of the ratio was unclear.
At another meeting last week, Xi and his top economic policy lieutenants pledged to make preventing and controlling financial risk to avoid asset bubbles a top priority for 2017. They also said they plan prudent and neutral monetary policy and proactive fiscal policy next year, according to a statement after the three-day Central Economic Work Conference.
Rising populist sentiment in the U.S. and Europe pose another risk for Xi's government, which has warned of the dangers of a trade war. Xi also warned China should avoid the so-called Thucydides Trap, the person said, referring to the theory attributed to the eponymous ancient Greek philosopher that says a rising power will clash with an established force.
The State Council Information Office didn't immediately respond to faxed questions on Friday about the growth target and debt levels.
Policy makers said they are aiming for the 6.5 percent average pace to achieve the party's promise of building a "moderately prosperous society" by that year with gross domestic product and income levels double those of 2010.
"A slower pace in the medium- to long-term will help adjust the economic structure and dissolve the risks," said Zhu Qibing, chief macro economy analyst at BOCI International (China) Ltd. in Beijing. "That will boost the long-term health of the economy."
Bears Defied
The world's second-largest economy has defied bears this year with three straight quarters of 6.7 percent growth. Economists have raised projections for China's growth in 2017 to 6.4 percent from 6.3 percent in September, a Bloomberg survey shows. Forecasters expect 6 percent growth in 2018.
Trump has threatened to slap tariffs on Chinese products while also questioning the U.S.'s policy on Taiwan, which China considers its territory. Frothy property markets and a falling yuan also pose challenges to the economy.
Too much emphasis on meeting growth objectives is increasing financial risk, according to Huang Yiping, an adviser to the People's Bank of China. The higher the short-term growth target, the more difficult it will be to rebalance the economy to favor long-term growth, Huang, an economics professor at Peking University, said at an event this week in Beijing.
Last year's 6.9 percent expansion was the slowest since 1990. For this year, the government set a 6.5 percent to 7 percent target range, slower than last year's goal of about 7 percent. IMF Managing Director Christine Lagarde said earlier in February that the fund strongly recommended that China set a growth target range of 6 percent to 6.5 percent.
"Being open to tolerate slower growth for the sake of an altered growth model is a very important signal," said Frederik Kunze, chief China economist at Norddeutsche Landesbank in Hanover, Germany. "It seems like making a virtue out of the obvious, because the current economic activity happens at the cost of future growth."
— With assistance by John Liu
Before it's here, it's on the Bloomberg Terminal.
LEARN MORE