Luxury Travel
Watch an Artist Carve a Hotel Suite Out of Ice in One Minute
An exclusive, behind-the-scenes look at how the Icehotel is made each year—along with all the intel to plan your own trip.
By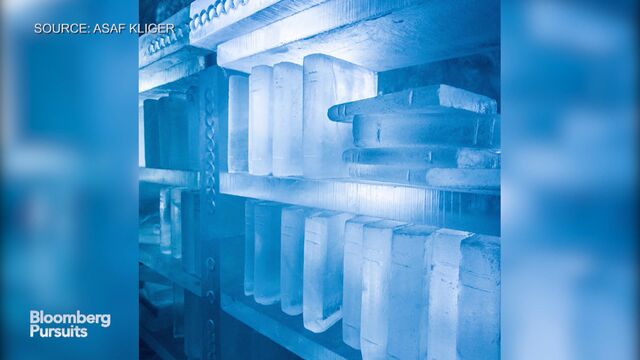 Every year, Swedish Lapland—a swath of tundra roughly 125 miles north of the Arctic Circle—becomes the site of the world's most famous pop-up hotel. This marks the 27th winter that Icehotel is popping up in the middle of nowhere, drawing visitors from around the world who want nothing more than to spend a night in a frozen castle made entirely of—you guessed it—ice.  
But this year is a little different. For the first time, Icehotel has created suites that will remain open year-round, as part of a hotel expansion called Icehotel 365. (Ironically, the suites will be kept cool with the help of solar-generated power.) To mark the occasion, we tasked the Italian architect Luca Roncoroni with the creation of a time-lapse video while he built out his signature suite, called "The Victorian Apartment."

A regular of the Icehotel, Roncoroni has been designing and building snowy suites for the last 15 years. This is his most ambitious project to date: a two-room apartment with a full library, filled with 200 individually-carved tomes that can be examined, rearranged, and used as photo props by guests. He also sculpted everything from the wainscoting to the armchairs and the bedside lamps, using nearly 10 tons of ice in the two-week-long process. (Our favorite detail is the faux heater next to the bed.)
Want to go? Getting there requires flying to Kiruna airport, which is serviced by the Scandinavian carriers SAS and Norwegian. From there it's a quick, 15-minute drive (or dogsled ride!) to the hotel. Expect end-to-end service: staff will even meet you at the airport with snowsuits to make sure you're never cold.

Even still, plan on spending just one night in a frozen suite—it's an extreme experience that wears out its novelty quickly. The hotel provides reindeer hides as blankets, along with copious whiskey, hot lingonberry juice, and access to saunas to keep warm.
That's enough to keep you happy for a couple of hours, though, and not much longer. The hotel won't try to convince you otherwise: they recommend spending a night or two in their "warm rooms," which aren't made out of ice and resemble traditional hotel digs, and then capping off a weekend in Lapland with a night in your own souped-up snow fort.

While you're there, you'll get to try your hand at ice sculpting, go snowmobiling under the Northern Lights (the owners claim this is "scientifically the number one place in the world for Northern Lights viewing"), and going on reindeer-led sled rides through the snow-covered forests. Just make sure you pack every bit of warm clothing you own.

Before it's here, it's on the Bloomberg Terminal.
LEARN MORE