business
Farage Likens Quitting UKIP Leadership to 'Escape From Colditz'
By
Former chief pledges not to meddle with Nuttall's leadership

UKIP gears up for special election challenge in early 2017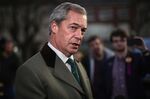 Nigel Farage likened quitting as leader of the U.K. Independence Party to escaping from Germany's most fortified World War II prisoner-of-war camp in a radio interview in which he pledged not to "meddle" with his successor's policies.
Farage stepped down after UKIP achieved its primary goal -- a vote to leave the European Union in the June referendum. Diane James was elected to succeed him, but quit after 18 days, leaving Farage as interim leader until Paul Nuttall was chosen in a second leadership vote last month. 
He had also quit after failing to secure a seat in Parliament in the 2015 general election, before being persuaded to stay by the party executive.
"I thought I got away but they got me back," Farage, 52, told LBC radio, according to an e-mailed transcript of the interview, to be aired on Dec. 26. "It's like 'Escape from Colditz,' isn't it?," he said, referring to the classic board game based on the German castle where the most troublesome Allied officers were incarcerated during World War II.
Nuttall will face his first test early next year in a special election in Copeland, northwest England, which was triggered when Labour lawmaker, Jamie Reed, quit this week. Nuttall has vowed to challenge Labour in its northern heartlands, accusing party leader Jeremy Corbyn of being out of touch with ordinary voters. A date has yet to be set for the vote.
Election Challenge
"The Labour Party's in terrible trouble with its traditional old Labour working-class, for want of a better term, base and I think Paul is the perfect person to really go after that vote," Farage said. "I'm not going to meddle, I'm not going to interfere but I'm here to help, if I'm wanted."
UKIP came third in Copeland in the general election, but the potential to take votes from Labour has led bookmakers to make the Conservatives, second in 2015, the favorite to win. If the Tories do so, they'll be the first ruling party to take a seat from the opposition in a by-election since 1982.
Farage also said:
He doesn't rate "very highly" UKIP Deputy Chairwoman Suzanne Evans, a defeated leadership candidate who wrote the party's 2015 election manifesto.
UKIP's sole lawmaker, Douglas Carswell, "shouldn't be in the party. He doesn't believe in what we stand for, he never has done."
Diane James's resignation was "a very selfish act."
Before it's here, it's on the Bloomberg Terminal.
LEARN MORE