markets
Deutsche Bank Reassures Staff of Strength After U.S. Settlement
By , , and
Bank to pay all coupons, didn't find Russia sanctions breached

German firm doesn't expect preferential treatment from Trump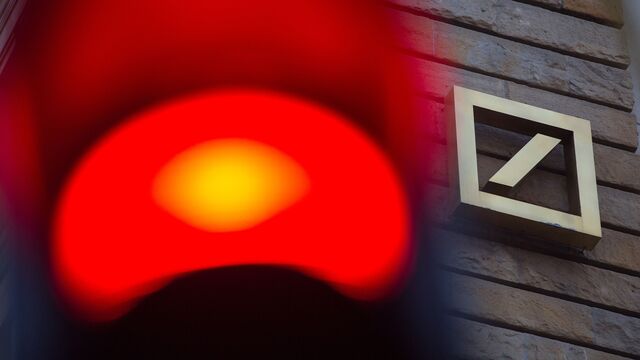 Deutsche Bank AG moved to reassure employees of its financial strength after reaching a $7.2 billion settlement with U.S. regulators over toxic subprime debt, and said it found no evidence the firm had breached sanctions against Russia in a separate probe.
The lender, which saw its stock plunge this year amid legal concerns on multiple fronts, said in a memo to staff Friday that it doesn't expect the settlement to affect its credit rating or its ability to operate in the U.S., and it anticipates paying the coupons on all its debt instruments.
"By agreeing this settlement, we are removing a long-standing uncertainty from Deutsche Bank," and the lender won't need government support, the memo said. "We anticipated that the credit market will welcome the sentiment. We anticipate paying coupons on all of our instruments on time and in full." The German government didn't help negotiate with U.S. authorities, it said.
The bank, which is said to be a creditor to U.S. President-Elect Donald Trump, doesn't believe it will receive preferential treatment after he takes office, according to the memo, which was seen by Bloomberg.
Deutsche Bank's shares rose and perceptions of its credit risk eased after the settlement, which was about half the initial demand of $14 billion by the U.S. Department of Justice. The potential weakening of Deutsche Bank's capital position raised concerns over the bank's ability to pay coupons on some of its bonds and sent the stock plunging earlier in 2016.
To read more on the U.S. settlements with two banks today, click here.
Earlier Friday, Deutsche Bank and Credit Suisse Group AG agreed to pay a combined $12.5 billion to resolve U.S. investigations into sales of the toxic debt that fueled the financial crisis. S&P Global Ratings said it doesn't expect the settlement to affect Deutsche Bank's credit rating.
Russian Probe
In the Russian mirror-trade affair, one of the issues remaining to resolve for Chief Executive Officer John Cryan, there is "no indication of a breach of sanctions," the memo said. However, an internal probe found "deficiencies" in the bank's systems and controls that are being addressed.
The lender is being investigated by U.S. and U.K. authorities over whether its internal controls failed to catch transactions that may have moved billions of dollars out of Russia from 2012 to 2015, people familiar with the matter have said. The bank has dismissed several employees accused of carrying out up to $10 billion in suspicious transactions, according to people familiar with the matter, and has shut its securities business in Russia.
"It's very good news for Deutsche" if they haven't breached sanctions, said Michael Seufert, an analyst at Norddeutsche Landesbank. "U.S. authorities are very sensitive when it comes to the breach of sanctions," he said, citing the fines paid by France's BNP Paribas SA two years ago.
To read more about Deutsche Bank's mirror-trade scandal, click here.
The stock was up 1.2 percent at 2:28 p.m. in Frankfurt trading. The lender's 1.75 billion euros ($1.83 billion) of 6 percent additional Tier 1 bonds, the first notes to take losses in a crisis, rose 4 cents on the euro to 86.5 cents, the highest since Jan. 28, according to data compiled by Bloomberg.
The cost of insuring Deutsche Bank's subordinated bonds against losses fell 31 basis points to 352 basis points on Friday, the lowest since June 1, according to data compiled by CMA.
"The actual capital hit to Deutsche was modest" from the U.S. settlement, said Kyle Kloc, a portfolio manager at Fisch Asset Management who holds Deutsche Bank bonds.
— With assistance by Katie Linsell, and Alastair Marsh
Before it's here, it's on the Bloomberg Terminal.
LEARN MORE