Consumer Sentiment in U.S. at 12-Year High After Trump Win
By
Long-term inflation expectations decline to record low

Survey chief says sentiment has leveled off, likely to drop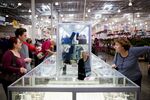 Consumer confidence jumped to the highest level since 2004, extending a surge in Americans' optimism for their finances and the U.S. economy following Donald Trump's election victory.
The University of Michigan said Friday that its final index of sentiment rose to 98.2 from 93.8 in November. The median projection in a Bloomberg survey called for 98, equal to the preliminary reading released earlier this month. Inflation expectations for the next five to 10 years fell to a record low.
A record share of respondents "spontaneously mentioned" the expected impact of Trump's policies, more than double the number when Ronald Reagan took office in 1981, according to the report. While Trump's promises of tax cuts and job gains have helped drive increases in consumer confidence, the honeymoon may fade in coming months unless actual economic conditions show improvement.
The report is a "pretty good start for the new Trump administration," Richard Curtin, director of the University of Michigan consumer survey, said on a conference call. At the same time, there is a mix of "optimism and uncertainty that characterizes consumers best going forward in these next three to six months."
Sentiment has leveled off since the election and is likely to decline in the coming months, Curtin said.
Over the next five to 10 years, respondents project a 2.3 percent rate of price growth, down from 2.6 percent in the prior month. Such low inflation expectations helped offset "quite meager" projected gains in wages, Curtin said.
Analyst Estimates
Estimates in the Bloomberg survey of economists for the main index ranged from 97 to 99.2. December's reading compares with the average of 91.3 in the first 11 months of this year.
The current conditions index, which measures Americans' perceptions of their personal finances, increased to 111.9 in December, the highest since 2005, from 107.3 in November. The preliminary reading was 112.1.
The gauge of expectations six months from now rose to 89.5, the highest since January 2015, from 85.2 a month earlier, comparing with a preliminary figure of 88.9.
Respondents expected the inflation rate in the next year will be 2.2 percent, the lowest since September 2010. That compared with 2.3 percent in the December preliminary survey and 2.4 percent in the November survey.
One caveat in the data: even with expected gains in the economy and personal finances, respondents didn't become more positive toward buying homes and vehicles amid higher borrowing costs, according to the report.
A separate report on Friday from the U.S. Commerce Department showed purchases of new homes increased in November to the second-fastest pace in almost nine years as the beginning of a spike in mortgage rates persuaded buyers to quickly sign contracts.
Before it's here, it's on the Bloomberg Terminal.
LEARN MORE