business
Brexit Bulletin: May's Iron Grip
The prime minister is described as increasingly isolated
By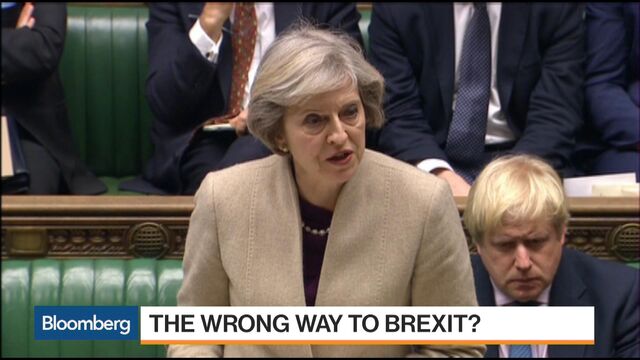 Sign up to receive the Brexit Bulletin in your inbox, and follow @Brexit on Twitter.

U.K. Prime Minister Theresa May's all-controlling management style, and that of her two top aides, is threatening to complicate Brexit planning, according to more than a dozen officials who spoke to Bloomberg's Tim Ross and Svenja O'Donnell.
Speaking anonymously because the subject is delicate, many of the government figures said an early period of goodwill toward May had given way to division and resentment, leading to policy mistakes that had to be hastily corrected. Much of that stems from the influence wielded by her joint chiefs-of-staff, Fiona Hill and Nick Timothy, the people said.
May is said to have been centralizing power more than her predecessor David Cameron while grappling with the most difficult task facing a British leader since the end of World War II. Hill and Timothy are said to deny top officials access to May, with even senior ministers and security chiefs finding it difficult to get past them to schedule a meeting with the premier. Some are said to be so demoralized that they have given up trying to tell May the truth about what they think of her policies. 
May's office said in a statement it didn't "recognize this version of events" and said the premier governs in an "inclusive manner."
Brexit Gets Harder
Six months on from the referendum, the question remains as to what shape the split will take. According to a new report by a group of academics, the answer is a hard break in which the U.K. surrenders most of its existing economic and trade ties in return for securing control of immigration as well as most of its money and laws.
"I'd put my mortgage on hard," rather than a soft Brexit, said Anand Menon, director of U.K. in a Changing Europe, an EU-funded research program based at King's College London.
His reasoning? May wants to accommodate the pro-Brexit wing of her party, and European leaders are unwilling to grant Britain any favors or encourage secession sentiment elsewhere.
Angus Armstrong from the National Institute of Economic and Social Research predicted the government will want to leave the tariff-free single market and likely the customs union too. That would necessitate a new free-trade agreement, with services like finance hopefully included.

Free movement of labor would end, although the U.K. would pay the EU and allow some of its workers preferential entry in order to win some access to the single market, Armstrong said.
And any regrets? John Curtice, of the University of Strathclyde, said there is "little consistent evidence that people would vote any differently if the referendum was held again."
Growth Resilient
Data on Friday showed the economy expanded 0.6 percent in the third quarter, the same as the second quarter and more than the previous estimate of 0.5 percent.
Still, the current-account deficit, which the Bank of England has highlighted as a risk particularly if Brexit deters foreign investment, widened. The deficit amounted to 5.2 percent of GDP, as the trade gap swelled to the widest in almost three years.
Consumers are also getting gloomier. The YouGov/Cebr consumer-confidence index fell to its lowest level since July, the month after the referendum, data published Friday showed. 
"Looking ahead to 2017 there is a feeling that a slight slowdown is on the way," said Scott Corfe, director at the Centre for Economics and Business Research.  

On the Markets
Investors aren't braced for a hard Brexit, according to Nomura and Bank of America Merrill Lynch.
Jordan Rochester, a currency strategist at Nomura, told clients in a report on Thursday that the market is "too complacent and optimistic."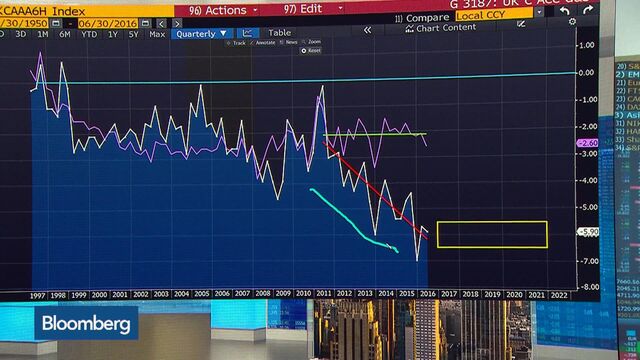 "It may be because market participants that were eligible to vote probably voted overwhelmingly to remain," Rochester said. "But the fact is the British people voted Brexit despite clear warnings from the 'Remain' camp that this would mean leaving the single market."
This suggests to him that there is room for the pound to fall back below $1.20 having traded on Wednesday around $1.23. A weaker sterling should boost gilts, according to Rochester.
Bank of America Merrill Lynch economist Gilles Moec said in a Bloomberg Television interview that there is a "bit of denial in the market."
"The market wants to hope that some sort of miracle is going to happen, some kind of soft Brexit is going to be on the menu," Moec said.

Queen's Disappointment
Add Queen Elizabeth to the list of people left disappointed by Prime Minister May's refusal to give a running commentary on her Brexit strategy. The Times reports that when May visited the Queen in Balmoral in September she stuck to her public line that "Brexit means Brexit" rather than offering the monarch the private briefing she'd hoped for.
And Finally…
The Brexit Bulletin is taking next week off, but there will be a post-Christmas treat for you on Dec. 28: our first end-of-year Brexit quiz, giving us all the chance to test how much we've paid attention during this busy year.
Thanks for reading, happy holidays, and all the best for a news-filled 2017. 

For more on Brexit follow Bloomberg on Twitter, Facebook and Instagram, and see our full coverage at Bloomberg.com
Before it's here, it's on the Bloomberg Terminal.
LEARN MORE