UN Resolution Criticizing Israeli Settlements Gets Delayed
By and
Obama administration had declined to say how it will vote

President-elect Trump called for U.S. to veto resolution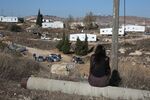 A vote on a United Nations Security Council resolution criticizing Israeli settlements in the West Bank scheduled for Thursday was delayed amid uncertainty over the U.S. position on the proposal and calls by U.S. President-elect Donald Trump for a veto.
The vote, initially scheduled for 3 p.m. New York time Thursday, was called off, the Security Council said in a brief statement that didn't clarify when or if the proposal will be taken up at all.
Tension over the resolution grew as the U.S. declined to say how it would vote. According to a draft circulated by Egypt, the resolution would have declared all Israeli settlements illegal under international law and demand that the country cease construction in the West Bank and other territories captured in the 1967 Middle East war. The U.S. has vetoed similar resolutions in previous years and the Obama administration has generally shied away from branding the Israeli settlements as illegal, preferring to call them "illegitimate."
Dore Gold, Israel's former ambassador to the U.N., said before the delay was announced that the Obama administration had kept his country's leadership in suspense. "I don't know at five minutes to midnight whether we'll get another veto this time," said Gold, who returned to his research institute, the Jerusalem Center for Public Affairs, in October after stepping down as director-general of the Foreign Ministry.
'No Legal Validity'
The draft text circulated by Egyptian diplomats said the establishment of settlements has "no legal validity and constitutes a flagrant violation under international law and a major obstacle" to a "just, lasting and comprehensive peace" between Israel and the Palestinian Authority.
Israeli Prime Minister Benjamin Netanyahu had called for the U.S. to reject the proposal. "It's bad for Israel; it's bad for the United States; and it's bad for peace," Netanyahu said in a statement.
Egypt will await a meeting of Arab foreign ministers in Cairo before deciding how to proceed, according to an official with knowledge of the deliberations. The Israeli newspaper Haaretz said the delay was the result of Israeli pressure on Egyptian President Abdel Fattah El-Sisi. The newspaper said the vote could be delayed "indefinitely."
The latest version of the resolution emerged after New Zealand, which rotates off the Security Council at the end of this year, circulated a draft that reasserted the two-state solution and called for an end to violence and settlements. Elements of the New Zealand resolution were later merged into a text drafted by the Palestine Authority.
The Palestinian Authority's ambassador to the UN, Riyad Mansour, then circulated a different draft resolution which said all "Israeli settlement activities in the Occupied Palestinian Territory, including East Jerusalem, are illegal under international law." A modified version of the Palestinian resolution was sponsored by Egypt and was scheduled to go before the council before today's delay.
For a QuickTake on U.S.-Israeli ties, click here
Israeli-Palestinian peace talks have been at a stalemate since 2014 over the settlements issue. Palestinian Authority President Mahmoud Abbas says all settlement construction must cease before any resumption of peace negotiations. Netanyahu says restrictions on building in the West Bank and east Jerusalem can only be accepted in face-to-face negotiations aimed at producing a comprehensive peace agreement.
Some 400,000 Israelis live in more than 120 settlements built in the West Bank over nearly 50 years. Another 300,000 live in east Jerusalem, which was also captured from Jordan in the 1967 war, but which Israel annexed in a step that hasn't been recognized internationally.
Earlier on Thursday, Trump issued a statement calling for the U.S to exercise its veto on the proposed resolution, saying it "puts Israel in a very poor negotiating position and is extremely unfair to all Israelis."
The incoming U.S. president has taken a very public stance on U.S.-Israel ties, vowing to move the U.S. embassy in Tel Aviv to Jerusalem, a move Palestinians say would effectively end the peace process. He's also nominated David Friedman, a staunch supporter of settlements who opposes the two-state solution, as his ambassador to Israel.
Mustafa Barghouti, a member of the Palestinian Liberation Organization's Executive Committee, told reporters in the West Bank that he hopes a vote will take place.
""If people think this is the end of the story, they are wrong," Barghouti said. "We're here and we're not leaving. We won't stop fighting for our freedom whether Mr. Trump likes it or not."
— With assistance by Mike Dorning, Nick Wadhams, Fadwa Hodali, and Margaret Talev
Before it's here, it's on the Bloomberg Terminal.
LEARN MORE