Tatts Rejects Pacific Consortium Offer in Favor of Tabcorp
By
Consortium valuation of the lotteries unit is 'inadequate'

Bid had valued Australia's Tatts at up to A$5 a share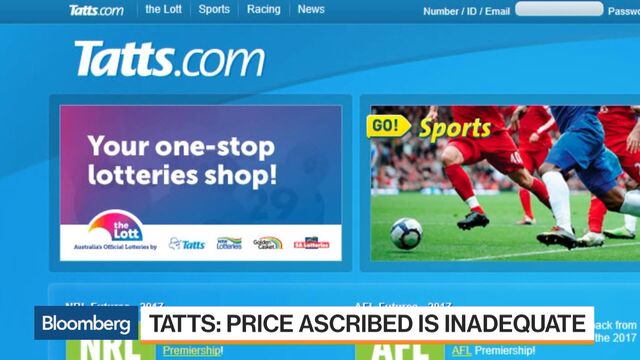 Tatts Group Ltd. rejected an offer of as much as A$7.3 billion ($5.3 billion) for its Australian betting and lotteries business from a consortium including Morgan Stanley and KKR & Co., saying it wasn't superior to an earlier agreement with Tabcorp Holdings Ltd.
The conditional cash and scrip offer from the Pacific Consortium was based on assumptions that were either incorrect, inconsistent with Tatts' current expectations or unknown, the Brisbane-based company said in a statement Friday. The value ascribed to the lotteries unit was "inadequate" and the assumed price estimate for the wagering business was "overly optimistic," it said. Tatts continued to unanimously recommend the Tabcorp agreement.
"It looks like from this statement that the Tatts board is absolutely not interested in doing a deal with the consortium at the proposed terms," said Bryan Hilbert, a Melbourne-based strategist at Churchill Capital Australia. "The language is telling the consortium they have a lot of work to do if they want to buy this business."
Tabcorp and the Pacific Consortium, which also including First State Investments and Macquarie Group Ltd., are battling for control of Tatts to gain a lotteries business that operates in almost every Australian state as well as a wagering unit that takes bets on horse racing, greyhound racing and sports matches in several states.
Due Diligence
The consortium earlier this month made a proposal worth between A$4.40 and A$5 for each Tatts share in a bid to trump the agreed cash and scrip deal with Melbourne-based Tabcorp. The consortium offered A$3.40 in cash and a share in the newly separated wagering unit that will be valued at between A$1 and A$1.60, it said.
Tatts refused to grant the consortium due diligence or to enter talks regarding the proposal, it said in the statement.
Tatts shares fell 3.1 percent to A$4.41 as of 1:30 p.m. in Sydney, set for their biggest daily drop since August.
Tatts said on Friday earnings from its lotteries unit would drop by about 13.8 percent this half from the first six months of 2016 after being negatively impacted by an "unfavorable jackpot sequence." It also said net debt was A$1.2 billion, which is higher than the A$1.04 billion the consortium assumed in its proposal, and that it was unclear if its lottery license in Victoria state would be renewed or on what terms.
'Profit Downgrade'
The consortium is reviewing its position and absorbing the details of what it called "the material profit downgrade" announced by Tatts in its statement, a spokesman for the group said in an e-mail. KKR, Morgan Stanley and First State each own 30 percent of the Pacific Consortium while Macquarie holds 10 percent, according to the statement.
It's fair for the consortium to describe the changes as a downgrade as Tatts had confirmed the performance of its lotteries business was not as good as expected and it had higher debt levels than the suitor assumed, Churchill Capital's Hilbert said.
Tatts' lotteries business, with brands such as The Lott and Golden Casket, generated record earnings before interest, taxes, depreciation and amortization in the year ended June 2016. Ebitda climbed 10 percent from a year earlier to A$345.5 million.
Tabcorp in October agreed to buy Tatts in a deal valued at the time at A$4.34 a share. That merger would create a pan-Australian betting company to take on online rivals such as Bet365 Group Ltd., William Hill Plc and Ladbrokes Plc. Such overseas rivals have made day-and-night online betting accessible to Australians.